One-Pot Spring Linguine
Printemps 2017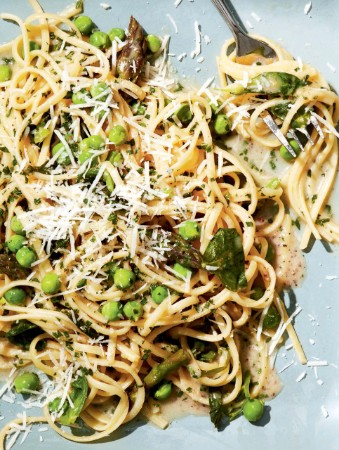 One-Pot Spring Linguine
Printemps 2017
BY: Christopher St. Onge
Have all your ingredients prepped before you begin and pay attention to the timing—this easy dish is all about when you add those perfect spring vegetables. What results is a creamy (without any cream!) lemony pasta and sauce worthy of a dinner party. Snow pea greens are a favourite Chinese vegetable and can be found at Asian grocers. To trim, remove wiry curled tendrils at the tips, and any thick woody stalks. Use the remaining tender stems and leaves. You can substitute with an equal amount of baby spinach if you like.
6½ cups (1.625 L) water, divided
½ cup (125 mL) extra virgin olive oil
Zest of 2 lemons, about ⅓ cup (80 mL)
Juice of half a lemon, about 2 tbsp (30 mL)
2¼ tsp (11 mL) salt
1 lb (500 g) linguine
1 bunch, about 1 lb (500 g) thick asparagus, cut into bite-sized pieces
1 cup (250 mL) shucked fresh peas
2 cups (500 mL) firmly packed trimmed snow pea greens
¼ cup (60 mL) finely chopped mint
1 cup (250 mL) finely grated Pecorino Romano
1. Pour 6 cups (1.5 L) water into a large pot wide enough to accommodate the full length of the pasta. Add olive oil, lemon zest, juice and salt; bring to a boil over medium heat.

2. Add the pasta, return to a boil and cook, stirring and tossing often with a pair of tongs, for 6 minutes. Add asparagus and continue to cook, stirring as you go, for another 2 minutes. Stir in peas and pea greens; cook 3 minutes longer, stirring carefully in the final minutes to prevent sticking.

3. Remove from heat, add final ½ cup (125 mL) water, or less, only if necessary to loosen sauce. Toss with mint and half of the cheese, divide between 4 warm bowls and pass remaining cheese around to top pasta.
SHARE