Planked Tandoori-Style Lamb
Early Summer 2008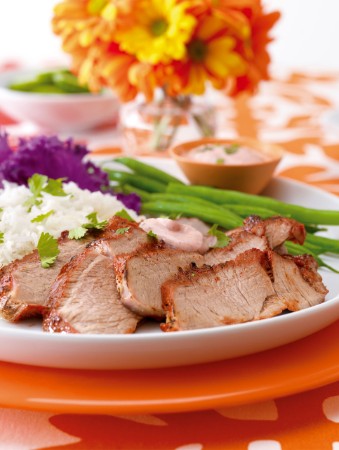 Planked Tandoori-Style Lamb
Early Summer 2008
BY: Marilyn Bentz-Crowley
Few Canadians can boast of a tandoor oven in their garden but a cedar plank over a gas grill provides that elusive smoky taste to this tender, mild lamb. Use a new untreated cedar plank about 1-inch (2.5-cm) thick, 14-inches (35-cm) long and 8-inches (20-cm) wide. That way, flavours from previously planked grills, especially fish, do not mar the lamb's taste. Have the lumber store cut a long untreated cedar board more or less to length, for a season's worth of quite inexpensive barbecue planks. Alongside try President's Choice naan bread from Loblaws - it's deliciously authentic.
Lamb
3 lb (1.5 kg) boneless leg of lamb, preferably local fresh Ontario
¼ cup (50 mL) tandoori paste (Patak is a good brand)
¼ cup (50 mL) full-fat yoghurt such as Astro's Balkan style
1 tsp (5 mL) finely grated fresh ginger
Grated zest and juice of ½ lime
1 cedar plank
Peanut or canola oil
1½ cups (375 mL) sliced onion
2 large garlic cloves, thinly sliced crosswise

Rice & Sauce
2 cups (500 mL) Indian basmati rice
2 cups (500 mL) water
1 cup (250 mL) full-fat yoghurt
2 tsp (10 mL) tandoori paste
Grated zest of ½ lime
1 small clove garlic, minced
¼ tsp (1 mL) salt
Several sprigs fresh coriander
6 to 8 pieces naan bread
1. If boned leg is not flat, slice through thinnest connection to open up meat. Combine tandoori paste with yoghurt, ginger and lime. Thickly coat lamb; place in a glass dish just big enough to hold it flat. Cover and refrigerate for several hours or up to a day. Weigh down cedar plank (a canning jar filled with water works well) to submerge in water for several hours.

2. Preheat barbecue on high; when temperature gauge reads 300°F (150°C), reduce to medium. Oil cedar plank with a smearing of peanut or canola oil. Scatter with onions and garlic. Arrange meat overtop; place plank on grill over lit burner. Adjust burner(s) as needed to keep temperature in closed barbecue at 300°F (150°C).

3. Grill lamb, rotating plank once or twice, for 1 hour and 15 to an hour and 30 minutes or until lamb is browned and an instant-read or meat thermometer in thickest part reads 140°F (60°C). Remove from barbecue; tent meat still on plank with foil for 10 to 15 minutes.

4. While lamb is grilling, wash rice in a sieve under cold running water, stirring with your hand until water runs clear. Place wet rice in saucepan; add measured water. Let stand at room temperature for 30 minutes. Then bring to a boil over high heat. Stir; reduce heat to very low. Cover; cook 15 minutes. Without opening lid, turn off heat; let stand for 10 minutes or longer. Fluff with a fork before spooning into a large warmed platter.

5. For sauce, stir yoghurt with tandoori paste, zest, garlic and salt. Finely chop coriander; stir a good pinch or 2 into the sauce. Set aside remainder for garnish.

6. Warm naan in toaster oven, directly on barbecue grill or on oven rack in 350°F (180°C) oven for 5 minutes. Thinly slice lamb across grain (hint: work from the long still-connected side, not short ends). Place on top of rice; scatter with coriander. Serve with steamed baby spinach or green beans and a dish of cold sliced cucumbers. Pass sauce and warm bread at the table.
SHARE