Planked Pecan Salmon with Mint-Yogurt-Saffron Sauce and Basmati Rice Salad
Summer 2011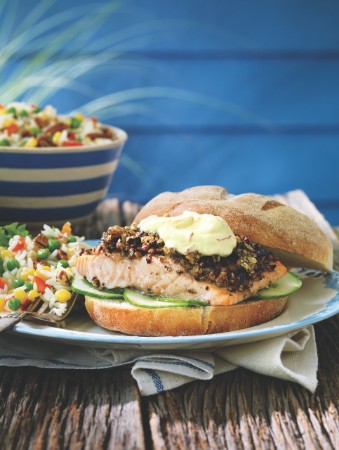 Planked Pecan Salmon with Mint-Yogurt-Saffron Sauce and Basmati Rice Salad
Summer 2011
BY: Marilyn Bentz-Crowley
Grilling on a cedar plank imparts a uniquely smoky flavour. As the plank will end up "wrecked," purchase a long and wide untreated cedar board at the lumber store and cut it into thirds or quarters—the result is very inexpensive barbecuing planks! The salad, sauce and most preparation for the salmon grilling can be done a day ahead. And, if you like, the fish can be grilled up to a day ahead, chilled and served as a cold sandwich.
SALAD
1 cup (250 mL) basmati rice
1½ cups (375 mL) water
1½ cups (375 mL) corn kernels, defrosted
or cut from 2 large cooked cobs
1½ cups (375 mL) fresh or frozen peas (defrosted)
1 tbsp (15 mL) white wine vinegar
1 tbsp (15 mL) Dijon mustard
¾ tsp (4 mL) salt
¼ tsp (1 mL) freshly ground black pepper
¼ cup (60 mL) olive oil
1 large sweet red pepper, seeded and diced
1 small Vidalia or other sweet onion, minced
½ cup (125 mL) coarsely chopped toasted pecans or roasted cashews

SANDWICHES
1 cedar grilling plank
1½ cups (375 mL) Balkan-style plain yogurt (6% butter fat)
1 lime, divided
15 to 20 strands saffron, about a pinch
¼ tsp (1 mL) salt
1 cup (250 mL) pecans
¼ cup (60 mL) lightly packed fresh mint leaves
2 tbsp (30 mL) olive oil
1 garlic clove, minced
2 skinless salmon fillets, each about ½ lb (250 g)
1 tsp (5 mL) very coarse salt
½ to 1 English cucumber
4 kaiser or Italian round rolls
1 Combine rice and water in a medium saucepan; let soak 30 minutes. Cover and bring to a boil. Reduce heat to medium-low to low. Steam, covered, for 15 minutes. Then fluff with a fork, stir in corn and peas. Leave covered off heat for 5 minutes.

2 Meanwhile, combine vinegar with mustard, salt and pepper in a large bowl. Stir in olive oil; add peppers and onion. Leave at room temperature until needed. Turn warm rice mixture into bowl with peppers and onions; use a silicone spatula with a folding motion to thoroughly combine. Salad can sit at room temperature for an hour or 2 or can be covered and refrigerated for up to a day (bring to room temperature for best flavour). When ready to serve, turn into serving dish and sprinkle with pecans.

3 Place plank in water; weigh down to soak for at least an hour or up to a day. Line a sieve with cheesecloth, paper towel or coffee filter. Add yogurt and place over a bowl to drain for an hour or more at room temperature. Meanwhile, zest lime and squeeze juice. Measure out 2 tbsp (30 mL) juice into a very small bowl; add saffron threads. Let soak while yogurt is draining. Set remaining juice and zest aside for pecan topping.

4 When yogurt is thick like softened cream cheese, stir in saffron and lime-juice mixture and salt. Cover and refrigerate until needed. For pecan topping, place pecans and mint in a food processor. Stir olive oil with garlic; drizzle over pecans. Sprinkle with reserved juice and zest. Pulse mixture a few times or until pecans are chopped; if desired, mixture can be covered and refrigerated for up to a day.

5 Use a chef's knife to diagonally (about a 45-degree angle) cut each fillet into 4 thinner pieces, starting at thickest side. Then take 2 pieces, keep brown-side down, and arrange with thick and thin overlapping to make 4 sandwich-size salmon "squares" with somewhat uniform thickness. Cover and refrigerate for up to half a day.

6 To grill, place soaked cedar plank on grill directly over barbecue burners set on high for 10 minutes or until very hot and bottom is just starting to smoke. Pull to edge of grill; scatter with coarse salt. Using a spatula, place salmon "squares" slightly apart on hot cedar, brown-side down. Dividing equally, pat pecan mixture firmly overtop.

7 Slide cedar plank to centre of grill, close lid and reduce heat so temperature in barbecue is about 300°F (150°C) for 8 to 10 minutes. Check with a fork; salmon centres should be still somewhat dark pink (medium). For totally cooked centres, turn off gas, lower lid and let salmon cook another 2 or more minutes.

8 Use a mandoline or chef's knife to diagonally slice numerous very thin pieces of cucumber. Line bun bottoms with cucumber. Top with salmon; add a large dollop of sauce. Serve right away with salad, passing remaining sauce.
Makes 4 generous servings
SHARE