Pizza with Chorizo, Broccolini, Blackened Tomatoes & Manchego
Winter 2016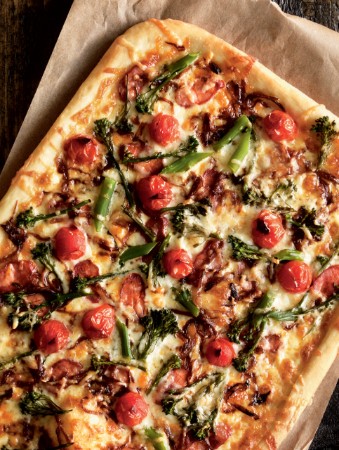 Pizza with Chorizo, Broccolini, Blackened Tomatoes & Manchego
Winter 2016
BY: Tonia Wilson-Vuksanovic
This pizza takes a little extra preparation time but its abundance of flavour makes it all worth the effort.
1 cup (250 mL) cherry or grape tomatoes
2 tbsp (30 mL) olive oil plus extra for oiling the baking sheet
Flour for dusting
1½ to 1¾ lb (750 to 875 g) ball store-bought pizza dough, thawed
1 bunch broccolini
2½ cups (625 mL) mozzarella cheese, grated
1 cup (250 mL) chorizo sausage, cured version (does not need cooking), thinly sliced
½ cup (125 mL) Caramelized Onions (recipe follows)
1 cup (250 mL) Manchego cheese
Salt to taste
1 Preheat broiler to high.

2 On a small baking sheet or cake pan, mix together tomatoes and 2 tbsp (30 mL) olive oil. Place under broiler in top third of oven and broil until starting to blacken, about 5 minutes. Remove and let cool.

3 Set oven to 450°F (230°C) and lower rack to the bottom third of oven.

4 Oil a standard 13 x 18-inch (33 x 45-cm) baking sheet. On a surface dusted with flour, roll out dough until it is the size of baking sheet, place on sheet, and spread out to reach all the edges.

5 Bring a small saucepan of water to the boil, blanch broccolini until tender, about 4 minutes. Drain and, when cool enough, cut into 1-inch (2.5-cm) pieces—you will need 1 cup (250 mL). Set aside.

6 Cover dough evenly with mozzarella, top with chorizo, broccolini and Caramelized Onions.

7 Top with the Manchego cheese and then the tomatoes, along with any of the residual oil from pan.

8 Season pizza with salt to taste and bake in oven until cheese is golden and dough is cooked through, about 15 minutes.

9 Let cool a moment, slice and serve.

CARAMELIZED ONIONS

Sweet and flavourful, these onions are a great addition to any pizza.

1 tsp (5 mL) olive oil
3 cups (750 mL) onions, finely sliced
⅛ tsp (0.5 mL) salt
¼ cup (60 mL) water
1 tbsp (15 mL) balsamic vinegar
1 tsp (5 mL) sugar
1 Heat oil over medium-high in a medium saucepan. Add onions and salt and cook for 5 minutes.

2 Add ¼ cup (60 mL) water, balsamic vinegar and sugar. Lower heat to medium-low, cover and cook for 30 minutes. Remove lid, continue cooking to thicken the liquid and glaze the onions, about 3 minutes. Set aside.
SHARE