White Spinach Pizza
Spring 2007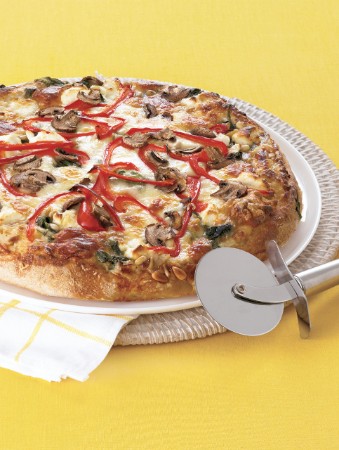 White Spinach Pizza
Spring 2007
BY: Marilyn Bentz-Crowley
Personalize this pizza with your cheese favourites-or whatever's on hand. Cubing melting cheese for pizza results in encounters with different flavoured 'pillows.' If an Italian bakery is nearby, pop in to buy a bag of dough and save yourself a step.
Dough
1 to 2½ tsp (5 to 12 mL) bread machine or traditional dry yeast
2½ to 3 cups (625 to 750 mL) hard or all-purpose flour
1 tsp (5 mL) salt
1¼ cups (300 mL) water
1 tbsp (15 mL) olive oil (optional)

Sauce
2 large unpeeled garlic cloves
1 tbsp (15 mL) butter
½ cup (125 mL) finely diced onion, preferably sweet onion
2 tbsp (25 mL) all-purpose flour
2/3 cup (150 mL) whole milk
1 tsp (5 mL) salt
Several grindings of black pepper

Toppings
4 cups (1 L) lightly packed baby spinach
½ cup (125 mL) freshly grated Parmesan cheese
2 tbsp (25 mL) toasted pine nuts
2 oz (60 g) creamy chèvre, crumbled
2 cups (500 mL) cubed mixed cheeses
such as provolone, mozzarella and fontina
4 to 6 cremini or button mushrooms, sliced
1 small sweet red pepper, seeded and sliced
1. To make dough in bread maker, use 1 tsp (5 mL) bread machine yeast and 2½ cups (625 mL) flour. Layer into canister using manufacturers directions; use dough mode.

2. To make dough by hand, stir 2½ cups (625 mL) flour with 2 1/2 tsp (12 mL) yeast and salt in a large mixing bowl. Make a well in the centre. Set remaining flour aside for kneading. Add water and olive oil. (Water should be like hot bath water.) bath water.) Stir until all the flour is incorporated. Turn out on floured surface. Knead 8 to 10 minutes using small amounts of remaining flour to keep the dough from sticking. Place dough ball on oiled pizza pan or baking sheet and turn so dough is coated with oil. Let rest, uncovered, 10 minutes-this is the first rise.

3. Preheat oven to 350ºF (180ºC).

4. Wrap garlic in foil and bake for 15 minutes or until soft. When cool, peel and mash on a plate with a fork. Meanwhile, melt butter in a small saucepan over medium heat. Add onion; sauté 3 to 5 minutes or until softened. Mix in flour; cook 2 minutes, stirring frequently. Stir in milk; cook, stirring often, for 5 to 8 minutes or until mixture bubbles and thickens. Remove from heat; stir in salt and pepper. If sauce seems very thick, stir in splashes of additional milk until the consistency of pasta sauce.

5. Heat about ½-inch (1-cm) water in the bottom of a saucepan over medium heat. When boiling, add spinach all at once; cover and steam for 2 minutes. Turn into a colander to drain; when cool, squeeze in your hands until almost dry.

6. To make pizza, pat out dough in an oiled pizza pan until about 12-inches (30-cm) in diameter; form a rim around edges. Spread with sauce; then sprinkle with Parmesan, spinach and pine nuts. Scatter chèvre; then evenly top with cubes of cheese, sliced mushrooms and sweet pepper. Let rise, uncovered, for 10 to 20 minutes until dough has almost doubled in thickness.

7. Arrange oven racks with 1 on the lowest level and 1 on the upper level. Preheat to 450ºF (230ºC).

8. Place risen pizza on lowest rack. Bake 8 to 10 minutes. Use a spatula to turn up 1 corner of crust to check for browning. When nicely browned, move pizza to top rack for 5 minutes more or until top is golden. Broiler can be used for a couple of minutes to aid in browning of cheese. Cut into pieces.
SHARE