Pizza Espagnole
Spring 2009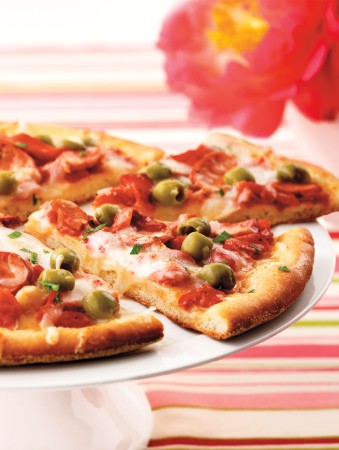 Pizza Espagnole
Spring 2009
BY: Julia Aitken
Some of the traditional tastes of Spain combine as toppings for an easy midweek pizza. Piquillo peppers, from northern Spain's Navarra region, are small red peppers with a touch of heat; they're roasted, then packed in jars or cans. Look for them in specialty grocery stores, or substitute regular roasted red peppers.
1 lb (500 g) pizza dough or one 12-inch (30-cm) prepared pizza crust
Cornmeal as required
1 cup (250 mL) drained, canned diced tomatoes
Salt and freshly ground black pepper to taste
4 oz (125 g) hot or sweet chorizo, thinly sliced
1⁄2 cup (125 mL) sliced, drained, canned piquillo peppers or roasted red peppers
1⁄2 cup (125 mL) pitted green olives, halved if large
1 cup (250 mL) shredded Manchego cheese (about 3 oz/90 g)
2 tbsp (25 mL) finely chopped parsley
1. Adjust oven rack to lower-middle position. If using pizza dough or an unbaked crust, put a pizza stone on middle rack of oven; preheat the oven to 500°F (260°C). If using a ready baked crust, omit pizza stone and preheat the oven according to package instructions. If using dough, shape it into a disc on a surface generously dusted with cornmeal; pat or roll out to form a 12-inch (30-cm) round.

2. Spread tomatoes over pizza dough, leaving a 1⁄2-inch (1-cm) border around edge; sprinkle with salt and pepper to taste, being sparing with salt (toppings are salty) and generous with pepper. Arrange chorizo, piquillo peppers and olives evenly over tomatoes; scatter evenly with shredded Manchego.

3. Slide pizza onto hot pizza stone in oven (or put directly on oven rack if using a ready-baked crust); bake for about 10 minutes (or follow package instructions) or until bubbly and cheese has melted. Sprinkle with parsley; cut into wedges and serve at once.
Makes one 12-inch (30-cm) pizza
SHARE