Pissaladiere Pan Pizza
Autumn 2014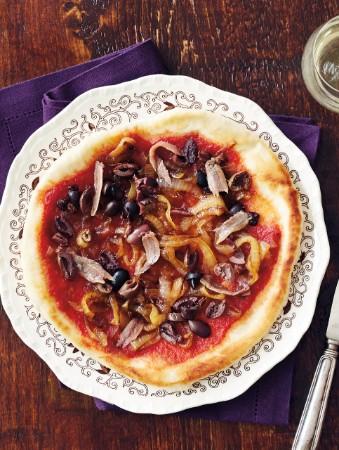 Pissaladiere Pan Pizza
Autumn 2014
BY: Kristen Eppich
A classic French dish, pissaladiere is an example of how wonderful simple food can taste. No cheese required for this pizza; onions, olives, anchovies and herbs do all the work making this a savory, comforting meal. Pasata is a cross between tomato paste and a tomato sauce; here it makes a perfect pizza sauce.
¼ cup (60 mL) olive oil
2 rosemary sprigs
1 large Spanish onion, finely sliced, about 4 cups (1 L)
1 tsp (5 mL) granulated sugar
½ tsp (2 mL) salt
Freshly ground pepper
1 pkg (300 g) store-bought pizza dough
¾ cup (175 mL) pasata
1 cup (250 mL) pitted niçoise or Kalamata olives, roughly chopped
16 anchovy fillets, torn into pieces
4 tsp (20 mL) fresh thyme leaves
1 Heat 2 tbsp (30 mL) oil in a large skillet over medium heat. Add rosemary sprigs and cook until fragrant, about 1 minute. Add sliced onion and stir until coated with oil. Cover and cook for 15 minutes, stirring occasionally, until golden and tender. Season with sugar, salt and pepper. Discard rosemary sprigs. Keep warm.

2 Divide dough into 4 equal portions. Roll out each on a lightly floured surface into an 8- to9-inch (20- to 23-cm) round.

3 Heat 1 tbsp (15 mL) oil in a 9- or 10-inch (23- or 25-cm) cast iron pan over medium heat. Add 1 portion of dough and cook for 2 minutes, or until the bottom is crisp and brown, then flip. Spread 3 tbsp (45 mL) pasata over dough. Top with one-quarter of the sliced onion,¼ cup (60 mL) olives and 4 anchovy fillets. Sprinkle with 1 tsp (5 mL) thyme. Cook for 1 to 2 more minutes or until bottom is crispy and dough is cooked through. Lift from pan and repeat with remaining ingredients, adding more oil to the pan if needed.
SHARE