Piri-Piri-Braised Chicken Over Cauliflower Rice
Winter 2018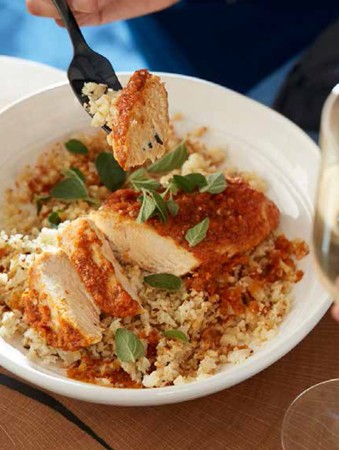 Piri-Piri-Braised Chicken Over Cauliflower Rice
Winter 2018
BY: Victoria Walsh
Savour the complex flavours and fiery heat of this classic dish in a healthier incarnation—made with less oil and skinless chicken that's braised to retain a juicy texture. You will not miss its standard white-rice sidekick once you try it with cauliflower rice; it's even more flavourful and just as satisfying.
PIRI-PIRI SAUCE
½ Spanish onion, coarsely chopped
1 vine-ripened tomato, seeded and coarsely chopped
4 to 6 red bird's-eye or red Thai chilies, stemmed
4 garlic cloves
3 tbsp (45 mL) white-wine vinegar
1 tbsp (15 mL) freshly squeezed lime juice
1 tbsp (15 mL) olive oil
1 tbsp (15 mL) chopped fresh oregano (plus extra for garnish if desired) or 1 tsp (5 mL) dried oregano leaves
1 tbsp (15 mL) smoked paprika
¼ tsp (1 mL) coarse sea salt (optional)
CHICKEN
1 tsp (5 mL) olive oil
1 lb (500 g) skinless, boneless chicken breasts, about 2
1 lb (500 g) skinless, boneless chicken thighs, about 6

CAULIFLOWER RICE
1 small head cauliflower
1 to 1½ tsp (5 to 7 mL) olive oil
Pinch Maldon salt
1 Place onion, tomato, chilies (use 6 if you prefer extra spicy), garlic, vinegar, lime juice, oil, oregano, paprika and salt in a food processor. Whirl until puréed.
2 Preheat oven to 350°F (180°C).
3 Lightly coat a large non-stick, heavy-bottom frying pan with oil. Set over medium-high heat. Cook chicken until golden, 2 to 3 minutes per side (you may need to do this in batches). Remove from heat. Place chicken in a 9 x 13-inch (3 L) baking dish. Add 1½ cups (375 mL) sauce to frying pan. Scrape up and stir in any browned bits. Simmer until hot, 1 to 2 minutes. Pour over chicken. Cover baking dish with foil.
4 Braise in centre of preheated oven until chicken is cooked through, 18 to 22 minutes.
5 Meanwhile, cut cauliflower into florets. Whirl florets in food processor until very finely chopped and "rice-sized." Spread out on a baking sheet. Press and pat dry with paper towels. Drizzle with oil and stir until lightly coated. Spread out evenly.
6 When chicken is done, remove from oven. Increase oven temperature to 400°F (200°C). When preheated, roast cauliflower rice until dry and lightly golden around edges of spread-out cauliflower, 10 to 13 minutes. Sprinkle with salt.
7 Turn chicken in dish to coat with sauce. Serve alongside cauliflower rice. Drizzle with more warm sauce from baking dish. Garnish with fresh oregano, if you like. For spicy food lovers, serve remaining fresh piri-piri sauce on the side.


SHARE