Piri Piri Crab Cakes with Lime Mayonnaise
Spring 2013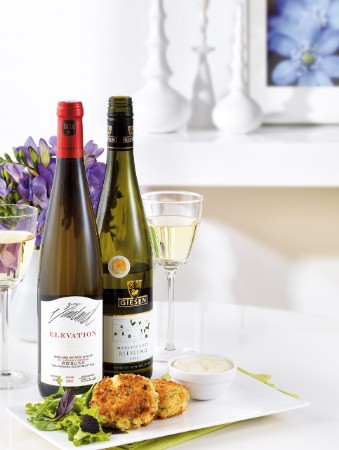 Piri Piri Crab Cakes with Lime Mayonnaise
Spring 2013
BY: Tonia Wilson-Vuksanovic
Piri piri is a Portuguese condiment with a spicy and tangy flavour. It is easily found at most grocery retailers. Serve two per person with a bit of tossed salad as a first course at your next dinner party
1 lb (500 g) fresh crabmeat
¼ cup (60 mL) plus ½ cup (125 mL) panko bread crumbs
¼ cup (60 mL) green onions, finely chopped
2 tbsp (30 mL) fresh cilantro, finely chopped
2 tbsp (30 mL) mayonnaise
¼ tsp (1 mL) salt
1 egg, lightly beaten
2 tsp (10 mL) piri piri sauce
¼ cup (60 mL) olive oil for frying

LIME MAYONNAISE
2 tsp (10 mL) lime juice
1 tsp (5 mL) lime zest, finely grated
⅓ cup (80 mL) mayonnaise
½ tsp (2 mL) Worcestershire sauce
1 In a medium bowl, gently stir together crabmeat, ¼ cup (60 mL) bread crumbs, green onions, cilantro, mayonnaise, salt, egg, and piri piri sauce. Using an ice cream scoop, form mixture into 8 equal-sized patties.

2 Place remaining bread crumbs in a bowl and dredge patties in bread crumbs to cover. Refrigerate coated patties for 30 minutes to an hour.

3 In a large skillet, heat 2 tbsp (10 mL) olive oil over medium-high heat; when hot, add patties and cook until golden on 1 side, about 5 minutes. Carefully flip patties, add remaining oil and cook until golden and heated through completely, another 7 minutes.

4 Stir together all ingredients for Lime Mayonnaise, remove patties from skillet to paper-lined plate, serve crab cakes with mayonnaise.
SHARE