Pink Peppercorn-Crusted Prime Rib of Beef with Cabernet Gravy
Winter 2005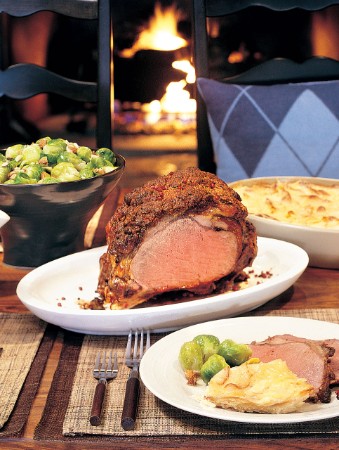 Pink Peppercorn-Crusted Prime Rib of Beef with Cabernet Gravy
Winter 2005
BY: Jennifer MacKenzie
A rub made with pink and black peppercorns gives a zesty crust to classic prime rib. Pink peppercorns are not true peppercorns but berries from the Baies rose plant grown in Madagascar. Look for the freeze-dried type in gourmet stores or well-stocked grocery or bulk food stores. The drippings from the roast add a peppery accent to the gravy and complement the robust red wine. The roasting times below are for a 4 lb (2 kg) roast. If your roast is larger, allow an extra 20 minutes per pound (500 g) for rare or 25 minutes for medium doneness. A meat thermometer is a must to get an accurate test for doneness. Be sure to allow the roast to rest before carving to make sure all the wonderful juices redistribute through the meat.
4 to 5 lb (2 to 2.5 kg) prime rib premium oven roast
¼ cup (50 mL) butter, softened
3 tbsp (45 mL) all-purpose flour
3 tbsp (45 mL) pink peppercorns, crushed lightly
2 tbsp (25 mL) Dijon mustard
1 tbsp (15 mL) cracked black peppercorns
1 tbsp (15 mL) packed brown sugar
1 tsp (5 mL) salt

Cabernet Gravy
1 onion, finely chopped
3 tbsp (45 mL) all-purpose flour
¾ cup (175 mL) Cabernet or other full-bodied red wine
2 cups (500 mL) beef stock
Salt and freshly ground pepper
1. Let roast stand at room temperature for 30 minutes. Preheat oven to 325ºF (160ºC).

2. Place roast, rib-side down, in roasting pan. Make a paste with butter, flour, pink peppercorns, mustard, black peppercorns, sugar and salt. Rub over top and sides of roast. Roast, uncovered, for about 1½ hours for rare or until meat thermometer reads 135ºF (57ºC) or 2 hours for medium or until meat thermometer reads 155ºF (68ºC). Place roast on cutting board, and tent with foil for 15 minutes.

3. To make Cabernet Gravy, skim most of the fat from roasting pan and discard. Place pan over medium heat and stir in onions. Cook, stirring, for about 3 minutes or until soft. Sprinkle in flour and cook, stirring, for 1 to 2 minutes. Whisk in wine then beef stock, scraping up any bits stuck to pan. Simmer, stirring often, for about 5 minutes or until thickened. Season to taste with salt and pepper. Strain into a warmed gravy boat. Serve slices of roast drizzled with gravy.
SHARE