Pineapple, Red Pepper and Cucumber Salad
Début de l'été 2006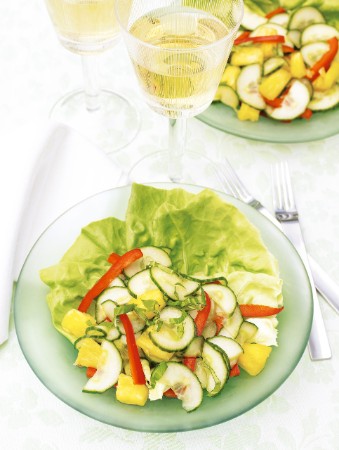 Pineapple, Red Pepper and Cucumber Salad
Début de l'été 2006
BY: Jennifer MacKenzie
Colourful and very flavourful, this salad captures summer on a plate. The combination of sweet and tangy makes the cucumber taste almost like a fresh pickle. If you like a tangier flavour, add an extra splash of vinegar just before serving. Vary the salad by using mango, yellow or orange peppers and different lettuces. The cucumber mixture is also lovely served as a condiment for grilled or sautéed seafood or chicken
1/3 cup (75 mL) granulated sugar
½ cup (125 mL) cider vinegar
1 English cucumber
1½ cups (375 mL) chopped peeled fresh pineapple
1 sweet red pepper, cut in thin strips
Salt
¼ tsp (1 mL) hot pepper sauce
¼ tsp (1 mL) freshly ground pepper
6 cups (1.5 L) baby spinach leaves and/or torn Boston lettuce
2 tbsp (25 mL) chopped fresh basil
1. In a small saucepan over medium-low heat, gently heat sugar and vinegar, stirring, until dissolved. Increase heat to medium and bring to gentle boil. Cook until liquid turns a deep caramel colour. Remove from heat and let cool just until bubbles subside.

2. Meanwhile, cut cucumber in half lengthwise. Cut crosswise into thin slices. Place in a heatproof bowl with pineapple, red pepper, ½ tsp (2 mL) salt, hot pepper sauce and pepper. Pour sugar mixture into bowl and toss gently to coat, the caramel will harden but will melt again. Cover and refrigerate for at least 1 hour or until caramel is melted or for up to 8 hours. Season with more salt to taste.

3. Divide spinach and lettuce leaves among chilled salad plates. With a slotted spoon, place cucumber mixture on top. Drizzle salads with some of the dressing left in bowl. Sprinkle with basil.
SHARE