Pineapple & Chardonnay Jellies
Autumn 2018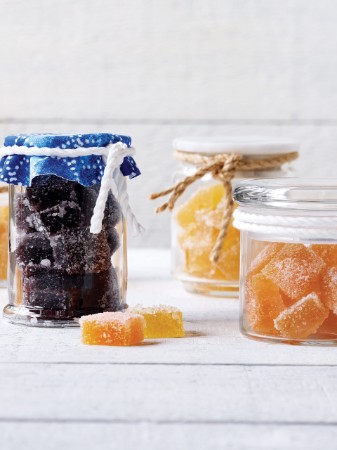 Pineapple & Chardonnay Jellies
Autumn 2018
BY: Christopher St. Onge
Replace the dried apricots with dried pineapple chunks, and the Riesling with oak-aged Chardonnay. Replace the apricot juice with pineapple juice. Add 1 tbsp (15 mL) lemon juice to pot. Simmer as you would the Apricot & Riesling Jellies, but purée hot mixture in a food processor before sieving over gelatin mixture.

Makes about 8 dozen jellies
APRICOT & RIESLING JELLIES

These delicious jellies play up the flavours of the wine used to make them. Choose a sweet wine: a late harvest Riesling is perfect, but any one labelled medium-sweet or sweet will do the trick. If it's humid when you make them, blot the surface of the candy before rolling in sugar, as condensation will liquefy the sugar coating.

1 cup (250 mL) firmly packed chopped dried apricots
1 cup (250 mL) medium-sweet or sweet Riesling
1½ cups (375 mL) apricot juice
2 cups (500 mL) sugar, divided
28 g (4 envelopes) gelatin
2/3 cup (150 mL) cool water
1. In a medium pot, combine apricots and wine. Bring to a boil over medium heat; reduce wine by half. Pour apricot juice over; stir in 1½ cups (375 mL) sugar and return to a boil. Reduce heat to maintain a gentle simmer. Cook 30 minutes uncovered.

2. Meanwhile, sprinkle gelatin over cool water in a medium bowl and let stand for at least 3 minutes. Pour hot apricot mixture through a fine mesh sieve into bowl containing gelatin. Using a spatula, press apricot pulp through sieve. Discard skins. Whisk gelatin mixture to combine. Grease an 8 x 8-inch (20 x 20-cm) pan with neutral-flavoured oil; pour gelatin mixture into pan. Cover with plastic wrap and refrigerate for 24 hours; return to room temperature before proceeding.

3. Spread remaining ½ cup (125 mL) sugar in an even layer on a cutting board. Dip bottom of pan in hot water briefly to loosen jelly, and remove in one piece to the sugar-covered board. Cut jelly into bite-sized rectangles (or alternatively, use a small cookie cutter to cut into bite-sized pieces in desired shape); roll in sugar to coat. Store uncovered at room temperature and consume within 3 days.
Makes about 8 dozen jellies
SHARE