Pickled Zucchini Spears
Summer 2018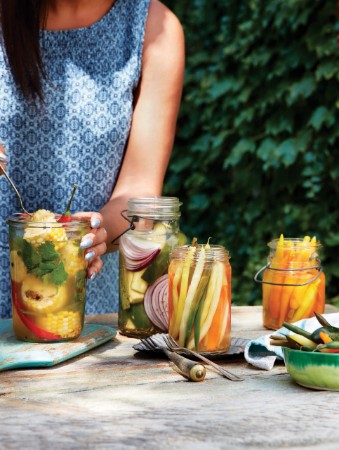 Pickled Zucchini Spears
Summer 2018
BY: Christopher St. Onge
Baby zucchinis, if you can find them, make very pretty pickles. Leave them whole (and don't salt them) or cut them in half and do. Otherwise, choose firm, smallish zucchini— you'll need about 2 lbs (905 g) of either.
3 zucchini, each about 8 inches (20 cm) long
1 tbsp (15 mL) salt
2 cups (500 mL) ice-cold water
3 cups (750 mL) Basic Brine (recipe follows)
2 tsp (10 mL) sugar
1½ tsp (7 mL) dried marjoram
½ small red onion
1. Trim stem ends of the zucchini; halve crosswise, then cut into sixths, lengthwise. Combine zucchini with salt and ice-water; refrigerate for 1 hour. Drain and rinse; set aside.

2. Bring brine, sugar and marjoram to a boil. Meanwhile, peel onion and slice through root, creating thin, intact wedges. Drop slices and reserved zucchini into hot brine and immediately remove from heat. Let cool. Divide zucchini and onion slices between three 2-cup (500-mL) jars; pour brine over and refrigerate for 1 day before using (keeps for 1 week in fridge).
Makes three 2-cup (500-mL) jars
REFRIGERATOR PICKLES BASIC BRINE

I love refrigerator pickles. With little to no effort, you get days' worth of crunchy, healthy snacks. Pretty much any seasonal veg can be pickled. Use this brine in the four recipes that follow.

2 cups (500 mL) water
1 cup (250 mL) white vinegar
1 tbsp (15 mL) kosher salt
1. Combine water, vinegar and salt; stir to dissolve salt.
SHARE