Pickled Heirloom Carrots
Automne 2015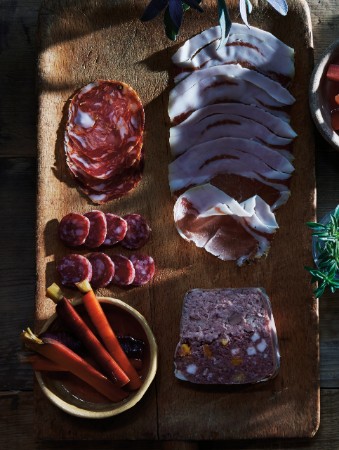 Pickled Heirloom Carrots
Automne 2015
BY: Christopher St. Onge
These colourful carrots match the colours outside on the trees.
1 lb (500 g) medium-size carrots, preferably a mix of orange, red and purple
4 cloves garlic, peeled
1 cup (250 mL) white vinegar
¼ cup (60 mL) cider vinegar
1 cup (250 mL) water
2 tsp (10 mL) coriander seed
1 tbsp (15 mL) dill seed
1 tbsp (15 mL) salt
2 tbsp (30 mL) sugar
1 Trim tops if necessary and cut carrots into 4-inch (10-cm) lengths; depending on width, cut into halves or quarters lengthwise. Cook carrots in salted boiling water for 1 minute; drain. Divide between 2 sterilized 2-cup (500‑mL) glass jars; place 2 cloves of garlic in each jar. Set aside.

2 Combine vinegars, water, coriander and dill seeds, salt and sugar in a medium saucepan over medium heat. Stir to dissolve salt and sugar, bring to a boil and pour over carrots in jars. Seal and refrigerate for at least 2 days (pickles will keep for 2 weeks in refrigerator).
Makes 2 jars, 2 cups (500 mL) each
SHARE