Phyllo Nests with Smoked Salmon, Leeks and Caper Sour Cream
Holiday 2002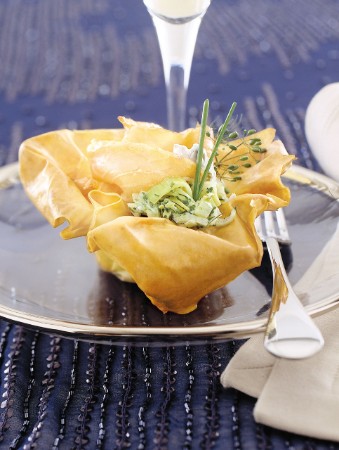 Phyllo Nests with Smoked Salmon, Leeks and Caper Sour Cream
Holiday 2002
BY: Dana Speers
The crunchy texture of buttery baked phyllo complements the creaminess of the leek filling and the caper sour cream. This is a visually stunning presentation for smoked salmon. Don't worry about flawlessly crimping the edges of the phyllo dough. The nests will look beautiful once they're baked. Capers are salty so be careful not to salt the caper sour cream.
1/4 cup (50 mL) melted butter, for brushing phyllo
6 sheets phyllo pastry
2 tbsp (25 mL) butter
2 large leeks (about 1 lb / 500 g), white and light green parts only, chopped and cleaned
1/3 cup (75 mL) whipping cream
1/4 cup (50 mL) chopped fresh parsley
4 tsp (20 mL) chopped fresh dill
Salt and freshly ground pepper
1 cup (250 mL) sour cream
1/4 cup (50 mL) capers, drained and chopped
1 tbsp (15 mL) chopped red onion
1/2 tsp (2 mL) fresh lemon juice
16 slices smoked salmon (about 1 lb / 500 g)

Garnish

Sprigs of parsley and dill
Whole chives
1. Preheat oven to 375°F (190°C).
2. Brush 8 cups of a muffin tin with melted butter.
3. Place one sheet of phyllo on a board. Brush it lightly with melted butter, then lay a second sheet on top. Repeat with a third sheet. Cut in half crosswise and then lengthwise to create 4 equal pieces. Press each piece into a buttered muffin cup and crimp edges. Repeat with remaining 3 sheets phyllo to create 8 filled muffin cups.
4. Bake for 10 to 12 minutes or until pastry is golden brown. Cool on a wire rack.
5. Heat butter in a 10 to 12-inch (25 to 30-cm) nonstick skillet on medium-low heat. Add leeks and cook for 8 to 10 minutes or until softened but not browned (reduce heat if leeks start to brown). Stir in the whipping cream and simmer for 30 seconds or until cream thickens. Add 3 tbsp (45 mL) of the chopped fresh parsley and 1 tsp (5 mL) of the chopped fresh dill. Season well with salt and pepper. Set aside.
6. Combine the sour cream, capers, red onion and lemon juice in a bowl. Add the remaining 1 tsp (5 mL) chopped fresh parsley and 1 tbsp (15 mL) chopped fresh dill. Season with pepper.
7. Place 2 slices of smoked salmon in each phyllo nest so the edges of the salmon drape slightly over the sides. Divide the cooked leeks among the nests and top each with a large dollop of caper sour cream. Garnish with the herb sprigs and chives.

Tips
The components of this dish can be prepared hours in advance.  Simply cover the baked phyllo nests with foil and leave them at room temperature on a platter.  The sautéed leeks and caper sour cream can be kept, wrapped separately in the refrigerator. 

When working with phyllo dough, keep any unused portions under plastic wrap to prevent them from drying out.  Roll stacked, leftover sheets in parchment paper and wrap tightly in plastic before refrigerating.
SHARE