Mini Lazy Cabbage Rolls
Hiver 2014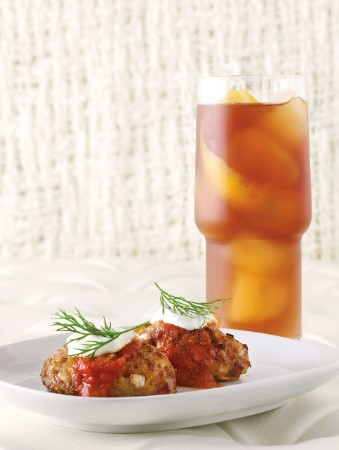 Mini Lazy Cabbage Rolls
Hiver 2014
BY: Signe Langford
We're cheating—just a little bit—with these lazy cabbage rolls, but we think your time is better spent enjoying these fully-loaded meatballs, not making them! This version calls for medium-ground beef, but pork, veal or turkey will do just fine.
¼ cup (60 mL) long-grain white rice
1½ cups (375 mL) water for cooking rice
2 cups (500 mL) water for boiling cabbage
1½ cups (375 mL) or about ⅓ head of cabbage (red or green)
1 tbsp (15 mL) butter
1 cooking onion, finely diced
½ red pepper, finely diced
1 large carrot, peeled and grated
2 cloves garlic, minced
½ tsp (2 mL) sea salt
2 eggs
½ cup (125 mL) finely diced kielbasa or other smoked European sausage
1 lb (500 g) ground beef
¼ tsp (1 mL) black pepper
Sour cream; optional
1 Preheat oven to 350°F (180°C).

2 In a covered pot, cook rice in 1½ cups (375 mL) water—or follow package directions. When just al dente, about 10 to 15 minutes, drain and set aside to cool and dry out a bit.

3 In a pot over medium-high heat, add 2 cups (500 mL) water and the whole piece of cabbage. Bring it to a boil, then simmer until semi-soft, about 15 minutes. Drain, reserving 1/3 cup (80 mL) of the liquid for Vodka-Spiked Tomato Sauce, and set aside to cool and dry.

4 When cabbage is cool enough to handle, finely dice and set aside.

5 In a large skillet over medium heat, melt butter; add onion, red pepper, carrot, garlic and salt, stirring often, until onions are soft, translucent and beginning to brown in spots, about 5 to 7 minutes.

6 Add the cooked onion mixture to a large bowl. Add the cooked cabbage, cooked rice, eggs, diced sausage, ground meat and black pepper to the onion mixture and mix well until all ingredients are evenly and completely incorporated. Getting in there with impeccably clean hands works best, but a wooden spoon will do, too.

7 Using your hands, take golf-ball-size amounts of the meat mixture and form into plump, oval patties. As you make the patties, lay them onto a parchment-lined cookie sheet.

8 Bake for about 30 to 45 minutes or until nicely brown on the outside, firm to the touch, and juices run clear when pricked.

9 Place 2 or 3 patties on a small plate, spoon over some Vodka-Spiked Tomato Sauce (recipe follows) and garnish with a dollop of sour cream, if desired. Make sure there's plenty of crusty bread around for sopping up the last of the sauce!
Makes about 30 rolls, serves 8 to 10 with 3 or 4 rolls per person

VODKA-SPIKED TOMATO SAUCE

Dill and vodka take this simple tomato sauce into new and tasty territory. If you're a major dill fan, go ahead and increase the amount up to ¼ cup (60 mL).

1 can (796 mL) plum or Roma tomatoes and their liquid
⅓ cup (80 mL) reserved cabbage cooking liquid
¼ cup (60 mL) vodka
2 tbsp (30 mL) chopped fresh dill
1 tsp (5 mL) black pepper
Sea salt to taste
2 tbsp (30 mL) butter
1 Place all ingredients except the butter into a blender or food processor and whiz until smoothly puréed.

2 In a saucepan over medium-high heat, add the butter and pour in the tomato mixture. Stir and simmer until reduced by about half
or thickened to the consistency of a thin spaghetti sauce, about 15 to 20 minutes. Taste and adjust for salt and pepper.
Makes about 2 cups (500 mL)
SHARE