Fried Baby Artichokes With Sea Salt
Printemps 2010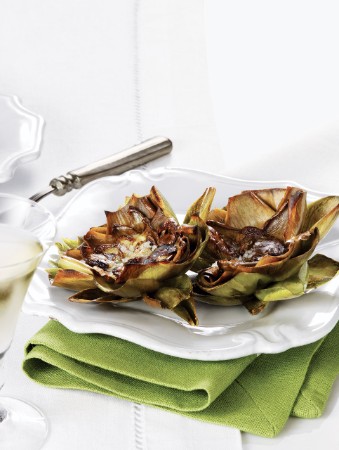 Fried Baby Artichokes With Sea Salt
Printemps 2010
BY: Jennifer McLagan
This recipe must be made with very small artichokes that have no hairy chokes. They require no preparation in advance, just a rinse. The end result resembles flattened flowers and can be served as an hors d'oeuvre or appetizer.
¼ cup (50 mL) olive oil
12 small artichokes, stems only removed
Fleur de sel
1. In a deep saucepan large enough to hold the artichokes, heat 3 tbsp (45 mL) of the oil over medium heat. Add the artichokes and cook, turning until golden on all sides, about 15 minutes.
 
2. Stand the artichokes upright on their base and cook another 5 minutes or until the artichokes are tender at the centre when pierced with a skewer. Remove the cooked artichokes from the pan and set them upside down on a plate to cool.

3. Once cool, open up the leaves of each artichoke and place on a parchment-lined baking sheet, stem-side up. Cover with another sheet of parchment paper and a second baking sheet. Place 2 cans, or a cast iron frying pan on the top pan to weigh down the artichokes, and leave for 30 minutes to flatten.

4. In a nonstick frying pan, using a drizzle of the remaining olive oil, brown the petal side of the artichokes in batches, about 5 minutes.

5. Remove the artichokes from the pan and place, petal-side up, on a serving plate and sprinkle with the salt. Serve immediately.
SHARE