Petite Réveillon Sliders
Holiday 2011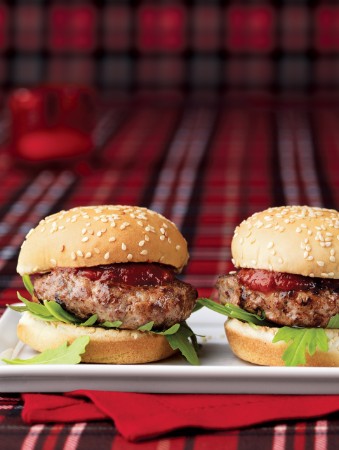 Petite Réveillon Sliders
Holiday 2011
BY: Monda Rosenberg
For generations, Quebec families have followed a tradition of returning home from Christmas Eve mass to a celebratory réveillon dinner. The high points of these meals are the tourtière meat pies, plump with fragrant savoury fillings, and a buffet of homemade preserves that can range from chili sauces to tomato ketchups and pickled beets. For your next holiday cocktail party, why not capture that same savoury goodness in trendy mini-burgers (a.k.a. sliders)? They're a snap to make and can be made ahead and baked all at once.
1 slice of white bread
¼ cup (60 mL) milk
1 egg
1 tbsp (15 mL) Worcestershire sauce
1 lb (500 g) medium ground beef, or a mix of beef and pork
1 tsp (5 mL) dried leaf thyme
½ tsp (2 mL) each of dried sage leaves, summer savoury and nutmeg
½ tsp (2 mL) table salt or celery salt
¼ tsp (1 mL) ground cloves (opional)
8 mini-burger or ciabatta buns

TOPPING
½ cup (125 mL) homestyle or old-fashioned chili sauce
1 tsp (5 mL) mashed chipotles in adobe sauce (optional)
1½ cups (375 mL) lightly packed arugula leaves

1 Slice crust from bread. Tear bread into tiny pieces. You should have about ¾ cup(175 mL). Place in a small bowl and stir in milk. Set aside for 5 minutes for bread to soak up milk. Pour off milk not soaked up by the bread.

2 Whisk egg with Worcestershire sauce in a wide bowl. Spread meat over egg mixture. Evenly sprinkle with thyme, sage, savoury, nutmeg, salt and cloves. Spread the soaked bread overtop. Gently stir together with a fork or your fingers. Remember, overworking toughens burgers.

3 Preheat oven to 400°F (200°C). Line a baking sheet with parchment paper.

4 If using mini-burger or ciabatta buns about 2½ inches (6 cm) wide, scoop up ¼ cup (60 mL) meat mixture for each slider. Roll into a loose ball. Place on parchment paper and gently press into a 3½-inch-wide (9-cm) patty, as they shrink as they cook. Smooth sides as best you can. Using your thumb, make a shallow indent in centre of burgers to prevent puffing during cooking. (If not baking right away, cover and refrigerate up to a day.)

5 Bake on the bottom shelf of oven until done as you like, from 5 to 6 minutes a side. (You can, of course, cook in an oiled pan over medium heat, but it requires using 2 pans and keeping an eye on them.)

6 For topping, blend chili sauce with chipotle adobe sauce. Taste and add more if you wish. This can be made days ahead and refrigerated.

7 To assemble, warm buns in the oven during the last 2 to 3 minutes while burgers are baking. Cover bottom of bun with a few pieces of arugula. Place warm burger on top, spoon on sauce and add the bun top.

Makes 8 petite burgers


ALTERNATE TOPPINGS
A cranberry chutney is also a perfect flavour match for these highly herbed burgers. Simply blend equal amounts of your favourite chutney with whole-berry cranberry sauce.Or for a fiery combo, stir a little hot garlic chili sauce into bottled homestyle chili sauce.Hot red pepper jelly also works well, as do slices of pickled hot red banana peppers or roasted red peppers.
SHARE