Peter's Favourite Burger
Early Summer 2015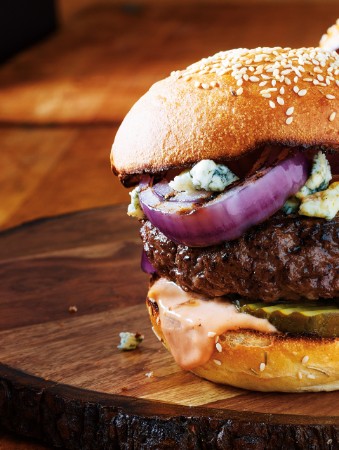 Peter's Favourite Burger
Early Summer 2015
BY: Peter Sanagan
Peter's original recipe called for a meat grinder, but we had the meat ground for us by a butcher.
1¼ lbs (625 mL) ground chuck
¾ lb (375 g) trim from a dry aged beef prime rib, ground
1½ tsp (7 mL) salt
2 tsp (10 mL) freshly ground pepper
2 tbsp (30 mL) olive oil
6 soft hamburger buns
1 Combine chuck and dry aged beef. Season with salt and pepper. Divide the ground meat into 6 portions. Shape portions into balls, then flatten to about 1 inch (2.5 cm) thick.

2 Preheat one side of grill to high and the other side to very low. This allows more control over cooking the burger. If you have a 3-burner grill, turn off middle burner until meat is seared, then turn off back burner as well. Place meat on turned-off portion of grill when you need the low heat.

3 Rub olive oil on the outside of the patties. Place patties on hot side of the grill and cook 2 minutes per side. Transfer them to the turned-off side to prevent burning the outside and cook another 3 to 4 minutes or until desired degree of doneness.

4 Serve on a toasted soft hamburger bun with Grilled Red Onions and Dynamite Burger Sauce (recipes follow).

GRILLED RED ONIONS

Slice a red onion into ½-inch-thick (1-cm) rounds. Sprinkle the slices with salt, sugar, olive oil and a good grind of pepper. Leave to marinate for an hour before grilling them on a medium heat.


DYNAMITE BURGER SAUCE

Season this to taste, controlling the heat as you wish.

½ cup (125 mL) mayonnaise
½ cup (125 mL) ketchup
2 tbsp (30 mL) hot sauce
1 tbsp (15 mL) Worcestershire sauce
1 Combine all ingredients, making it hotter or less hot as desired.
Makes about 1 cup (250 mL)
SHARE