Perfect Mashed Potatoes: The Basic Recipe
Temps des Fêtes 2013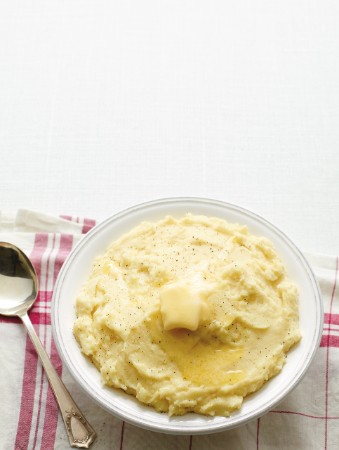 Perfect Mashed Potatoes: The Basic Recipe
Temps des Fêtes 2013
BY: Lucy Waverman
These potatoes are based on French Chef Joël Robuchon's mashed potatoes, which are really butter and cream held together with some potato. Beat in as much butter and cream as your arteries will allow. Otherwise, use my less rich variations.
2 lbs (1 kg) yellow-flesh potatoes, peeled and cut into even-size chunks
½ cup (125 mL) or more hot milk or cream
¼ cup (60 mL) soft butter
Salt and freshly ground pepper
1 Place potatoes in a pot and cover with cold, salted water. Bring to a boil for 10 to 15 minutes or until potatoes are fork tender.

2 Drain potatoes and return to pot. Place pot over turned-off burner and shake pan to make sure potatoes are really dry.

3 Either rice potatoes through a food mill or use an electric mixer for the best texture. When they are smooth, slowly beat in hot milk and butter with an electric mixer. The consistency should be creamy. Season well with salt and pepper.

VARIATIONS

• Add 2 heads roasted garlic, squeezed out of skins when mashing.

• Use buttermilk instead of milk.

• Use olive oil instead of butter.

• Beat in goat cheese instead of milk.

• Sauté onions and add in when milk is added.

• Use potato cooking water instead of milk.

• Beat in any flavour of pesto.
SHARE