Peppery Parmesan Tuiles with Summer Ratatouille
Été 2018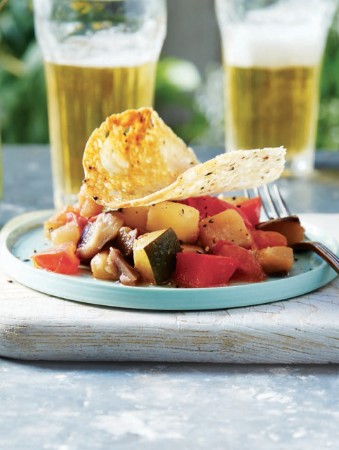 Peppery Parmesan Tuiles with Summer Ratatouille
Été 2018
BY: Jennifer MacKenzie
It's amazing how two simple ingredients bake up into elegant (and scrumptious) lacy tuiles. The quick sauté of Mediterranean vegetables is a perfect bed on which to perch the crisp Parmesan garnish. Get the best Parmigiano-Reggiano and grate it yourself using the fine side of a box grater for the best flavour. Serve on top of a bed of greens for a more substantial salad.
1 cup (250 mL) finely shredded Parmigiano-Reggiano, about 2 oz (55 g)
½ tsp (2 mL) coarsely ground black pepper

RATATOUILLE
2 tbsp (30 mL) olive oil
¼ red onion, finely chopped
2 cups (500 mL) diced eggplant
1 medium zucchini, diced
1 clove garlic, minced
Salt and freshly ground pepper
½ sweet red pepper, diced
2 tbsp (30 mL) red wine vinegar
2 medium tomatoes, seeded and diced
1. For the tuiles, preheat oven to 400°F (200°C). Line 2 baking sheets with parchment paper or reusable nonstick baking mats. For the classic curved tuile shape, wrap a rolling pin or narrow wine bottle with parchment paper and place on a tea towel (this will be your mould to shape the tuiles). Or skip the mould preparation if you want flat tuiles.

2. Combine Parmesan and pepper in a bowl; lightly toss with your fingers, being careful not to mush the cheese.

3. Place a 4-inch (10-cm) round cookie cutter or ring (such as egg-frying ring) on 1 prepared baking sheet as your template. Spoon in 2 level tbsp (30 mL) Parmigiano mixture and gently pat in an even layer. Remove ring and repeat to make 3 more, spacing them at least 1 inch (2.5 cm) apart.

4. Bake, 1 sheet at a time, for 5 to 7 minutes or until cheese is bubbling and evenly golden brown (watch carefully to make sure they don't burn).

5. Let cool on baking sheet for 10 seconds. While still hot and pliable, use a thin spatula to lift each tuile and carefully drape it on the rolling pin to curl. To make flat tuiles, simply leave them on the baking sheet to cool and firm up. Let cool until crisp, then carefully transfer to a wire rack to let cool completely and to reuse the mould. Wipe off any fat from mould between uses.

6. Repeat with remaining Parmesan to make 4 more tuiles. Cooled tuiles can be stored in a cookie tin at room temperature for up to 5 days.

7. For the ratatouille, heat oil in a large skillet over medium heat. Add onion and sauté for 3 minutes or until starting to soften. Add eggplant, zucchini, garlic, ½ tsp (2 mL) salt and pepper to taste. Sauté for about 4 minutes or until eggplant is tender. Add red pepper and sauté for 3 minutes or until eggplant is soft and zucchini and sweet pepper are tender.

8. Add vinegar and tomatoes. Remove from heat and gently stir to combine and stir up any bits stuck to pan. Season to taste with salt and pepper. Serve hot, let cool to room temperature or transfer to a bowl or airtight container, cover and chill for up to 2 days to serve cold. 9 Spoon ratatouille onto serving plates and perch a Parmesan tuile on top.
SHARE