Peppercorn Roast Beef with Balsamic Beets
Holiday 2009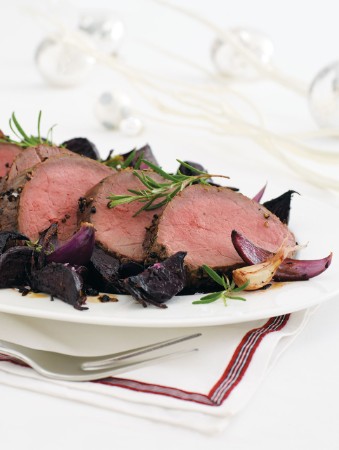 Peppercorn Roast Beef with Balsamic Beets
Holiday 2009
BY: Julia Aitken
As with all roasts, remove the beef from the fridge at least 30 minutes before cooking.Crack the peppercorns either by grinding them in a pepper grinder set to the coarsest setting, or by crushing them with the base of a cast-iron skillet.
8 medium beets, trimmed and peeled, about 1½ lb (750 g)
3 tbsp (45 mL) olive oil
2 tbsp (25 mL) finely chopped fresh rosemary leaves
2¼ tsp (11 mL) salt
2 red onions, cut into 1-inch (2.5-cm) wedges
8 whole cloves garlic, unpeeled
3 tbsp (45 mL) cracked black peppercorns
1 beef tenderloin, about 3 lbs (1.5 kg)
2 tbsp (25 mL) good-quality balsamic vinegar
Rosemary sprigs for garnish
1. Preheat oven to 425°F (220°C).

2. Cut beets into 1-inch (2.5-cm) wedges. In a large shallow roasting pan, toss together beets, 2 tbsp (25 mL) oil, rosemary and ¼ tsp (1 mL) salt; spread beets out in roasting pan. Roast, uncovered, for 20 minutes, stirring once.

3. Add onions and garlic to roasting pan; stir to combine with beets, breaking up onion wedges as you stir. Roast for 10 minutes.

4. Meanwhile, stir together peppercorns and remaining salt in a small bowl. On work surface, lay a piece of plastic wrap large enough to enclose beef; sprinkle with half of peppercorn mixture. Rub beef all over with remaining oil. Lay beef on peppercorn mixture on plastic wrap; sprinkle evenly with remaining peppercorn mixture. Wrap beef in plastic wrap, pressing so that peppercorns and salt adhere evenly to meat. Unwrap beef; transfer carefully to a wire rack.

5. Stir vegetables. Set rack holding beef in roasting pan containing vegetables; roast for 25 to 30 minutes for rare (125°F/52°C on a meat thermometer), 30 to 35 minutes for medium-rare (135°F/57°C on a meat thermometer).

6. Remove beef to a cutting board, tent loosely with foil and let stand for 15 minutes. Stir balsamic vinegar into vegetables; season with more salt and pepper to taste if necessary. Spoon vegetables onto a warm serving platter. Cut beef into slices; arrange on top of vegetables. Garnish with rosemary.
SHARE