Penne with Pancetta, Tomatoes and Vodka
Printemps 2002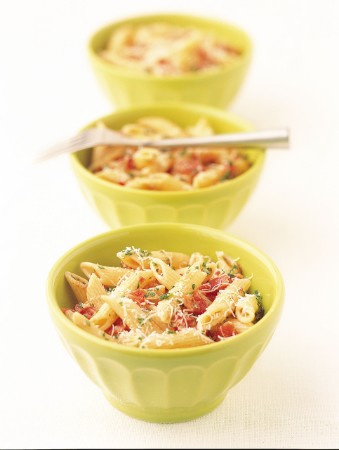 Penne with Pancetta, Tomatoes and Vodka
Printemps 2002
BY: Lucy Waverman
Vodka is a vital ingredient in this famous pasta sauce. Pancetta is Italian bacon, cured in both spicy and sweet styles. Buy the spicy kind to give this dish extra kick. Add more chili flakes for an even spicier sauce.
2 tbsp (25 mL) olive oil
1/4 cup (50 mL) diced pancetta
1 cup (250 mL) chopped onions
1/2 tsp (2 mL) chili flakes
1/2 cup (125 mL) vodka
2 cups (500 mL) canned tomatoes, drained and chopped
1/2 cup (125 mL) whipping cream
Salt and freshly ground pepper
1/4 cup (50 mL) chopped parsley
1/2 cup (125 mL) grated Parmesan cheese
1 lb (500 g) penne pasta, cooked until al dente
1. Heat oil in a skillet on medium heat. Add pancetta and onions and cook for 2 minutes or until softened. Add chili flakes, stir together and pour in vodka. Reduce until 2 tbsp (25 mL) remains, about 3 minutes.

2. Add tomatoes, bring to a boil, and let boil for 1 minute. Reduce heat to low and cook sauce for 15 minutes or until slightly thickened. Add the cream and simmer until well combined, about 2 minutes. Season with salt and pepper.

3. Stir in parsley and half of cheese. Toss with pasta, add remaining cheese and serve.
SHARE