Pecorino-Crusted Lamb with Fennel Salad
Spring 2019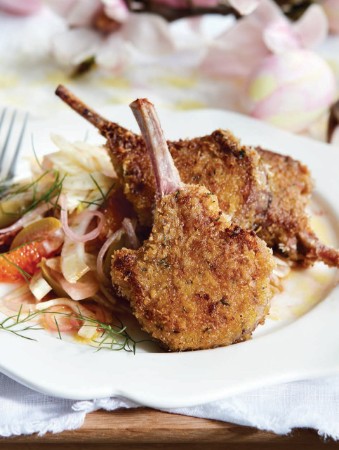 Pecorino-Crusted Lamb with Fennel Salad
Spring 2019
BY: Christopher St. Onge
Crusting individual chops instead of the whole rack of lamb ensures more flavourful meat. They cook quickly but taste as if they were a lot more trouble to make. The accompanying salad, with its bright, sweet flavours, plays off the salty Pecorino Romano beautifully.
2 blood oranges
1 shallot, thinly sliced
6 pitted green olives, slivered
5 tbsp (75 mL) olive oil, divided
Salt and freshly ground black pepper
1 large head fennel
1 egg
1 tbsp (15 mL) aged balsamic vinegar
1 clove garlic, finely grated
1 cup (250 mL) panko bread crumbs
1 cup (250 mL) finely grated Pecorino Romano
2 tbsp (30 mL) chopped thyme
12 lamb rib chops
1 Trim ends from oranges to expose the flesh. Working with one at a time, stand upright and use a sharp knife to remove peel and pith. Over a small bowl, cut between membranes to release segments. Reserve segments.

2 Squeeze membranes over a large salad bowl to release juices then discard membranes. Add shallot and olives; drizzle 3 tbsp (45 mL) olive oil over and stir to combine. Season with salt and pepper; set aside.

3 Thinly slice the fennel and refrigerate until ready to assemble. Reserve fennel fronds separately to garnish.

4 Whisk together egg, balsamic and garlic in a shallow bowl. Combine panko, Pecorino Romano and thyme on a plate; season with black pepper. Coat chops in egg mixture then in crumbs, pressing to adhere.

5 Heat the remaining 2 tbsp (30 mL) oil in a large skillet over medium heat. Fry chops in batches, 2 minutes per side, or until golden and medium-rare.

6 Add fennel and orange segments to a salad bowl; toss gently to coat. Serve warm chops with salad. Sprinkle reserved fennel fronds over before serving.
SHARE