Pecan, Prosciutto & Apple Quesadillas with Maple Mustard Mayo Dipping Sauce
Holiday 2012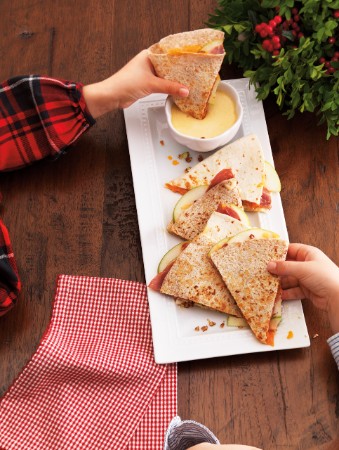 Pecan, Prosciutto & Apple Quesadillas with Maple Mustard Mayo Dipping Sauce
Holiday 2012
BY: LeeAnne Wright
For a pre-dinner bite, these quesadillas are familiar enough to younger eaters that they will dive right in. Adults will love the mix of textures and the unexpected crunch from the crisp apples. Quesadillas can be prepped and wrapped tightly in plastic wrap for a few hours, ready to pan-fry when guests arrive.
4 large wraps
3 cups (750 mL) grated cheddar cheese, about 8 oz (250 g)
8 thin slices of prosciutto, about 3 oz (90 g)
¼ cup (60 mL) finely chopped pecans
1 cored Granny Smith apple, cut into thin slices
1 tbsp (15 mL) butter, divided
2 tbsp (30 mL) mayonnaise
2 tbsp (30 mL) grainy Dijon mustard
1 tbsp (15 mL) maple syrup
1 Lay out wraps on a surface. Sprinkle ½ cup (125 mL) cheese over half of each wrap. Top cheese with prosciutto and nuts. Layer in apple slices and top with remaining cheese. Fold over uncovered half of wrap and press to seal.

2 Heat a large skillet with half of the butter over medium-high heat. When butter has melted, place 2 wraps into pan and cook about 3 minutes per side until quesadilla is golden brown and crisp. Turn and continue to cook on other side until cheese has melted. Repeat with remaining 2 wraps, keeping grilled wraps warm. Cut each grilled wrap into 4 wedges.

3 While wraps are grilling, mix together mayo, mustard and maple syrup. Serve wedges with dipping sauce.
SHARE