Pastrami on a Pretzel Bun
Holiday 2018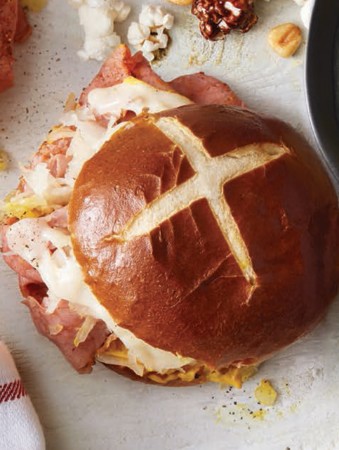 Pastrami on a Pretzel Bun
Holiday 2018
BY: Jennifer MacKenzie
Hot pastrami on a chewy pretzel bun, a slather of mustard and melted Swiss cheese makes a very fine sandwich indeed. You may like the addition of sauerkraut for some extra punch, or leave it off for a milder sandwich. If the buns are small, you may want to make extras and serve one-and-a-half or two per person. Check a local bakery for pretzel buns, or get adventurous and make some yourself. A dense multigrain bun makes for a good alternative.
12 oz (340 g) sliced pastrami
4 pretzel buns, cut in half
Yellow mustard
¾ cup (175 mL) drained sauerkraut (optional).
Freshly ground pepper
4 slices Swiss cheese
1. Preheat oven to 400°F (200°C).

2. Divide pastrami into 4 equal portions. Place each portion in a separate pile approximately the same diameter as the buns on a large piece of foil. Wrap with foil and seal edges. Place on a baking sheet and heat in oven for 5 minutes or until sizzling. Place buns directly on oven rack and heat alongside pastrami.

3. Spread cut sides of buns with mustard, to taste. Using tongs, lift pastrami from foil, draining off liquid, and arrange on bun bottoms, top with sauerkraut (if using) and sprinkle with pepper. Top each with a slice of cheese. Leave sandwiches open and place on baking sheet.

4. Bake in oven for about 5 minutes or until cheese is melted. Place bun lids on sandwiches and serve hot.
SHARE