Pastrami & Rye-Stuffed Onions
Autumn 2016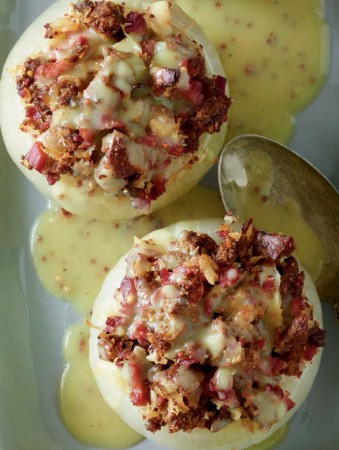 Pastrami & Rye-Stuffed Onions
Autumn 2016
BY: Christopher St. Onge
These deli-inspired onions are so good they're supper's main attraction. The mustardy gravy mingles well with green beans, broccolini and even sautéed kale. Ask at the deli counter that your pastrami be sliced ¼ inch (5 mm) thick—it will make chopping it easy.
4 medium Spanish onions, each about 14 oz (425 g)
1 cup (250 mL) chicken stock
¼ cup (60 mL) butter, divided
8 oz (250 g) chopped pastrami
2½ cups (625 mL) dark rye bread, coarsely chopped
⅓ cup (80 mL) sauerkraut
3 tbsp (45 mL) grainy mustard, divided
Salt and freshly ground pepper
Water to top up stock
1 tbsp (15 mL) flour
2 tsp (10 mL) yellow mustard
1 tbsp (15 mL) honey
1 Preheat oven to 425°F (220°C).

2 Cut a 1-inch-thick (2.5-cm) slice from the tops of onions; peel and trim just enough from root ends to allow onions to stand upright. Using an ice cream scoop or a tbsp measure, scoop out interiors, reserving 1½ cups (375 mL) of the insides.

3 Place hollowed onions in an 8 x 8-inch (20 x 20-cm) glass baking dish; pour chicken stock around, cover tightly with foil and bake for 40 minutes.

4 Meanwhile, chop reserved onion. Melt 3 tbsp (45 mL) butter in a large skillet over medium heat; fry onions, stirring from time to time, about 10 minutes or until deeply caramelized. Add pastrami and cook an additional 2 minutes. Stir in bread; remove from heat. Add sauerkraut and 2 tbsp (30 mL) grainy mustard; stir and season to taste with salt and pepper.

5 Reduce oven temperature to 350°F (180°C).

6 Divide mixture between onions and return to oven, uncovered this time, for an additional 20 minutes or until heated through. Remove onions to a board and tent with foil to keep warm.

7 Pour stock from bottom of baking dish into a measuring cup; top up with water to 1 cup (250 mL) and set aside.

8 In a medium saucepan, melt remaining 1 tbsp (15 mL) butter. Sprinkle flour over and stir with a spatula to combine. Cook for about 1 minute or until flour is golden brown. Whisk in chicken stock, bring to a boil and cook until thickened, 1 minute longer. Stir in remaining1 tbsp (15 mL) grainy mustard and yellow mustard along with the honey; season with salt and pepper.

9 Serve onions with sauce napped overtop alongside your favourite green vegetables.
SHARE