Pasta with Wild Mushroom Sauce
Hiver 2009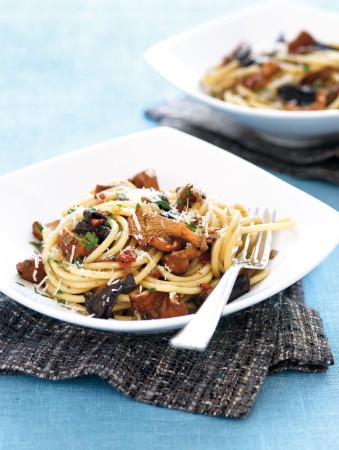 Pasta with Wild Mushroom Sauce
Hiver 2009
BY: Jennifer McLagan
By adding the dried porcini mushrooms you will have a good flavour even if only a quarter of your mushrooms are wild.
¼ cup (50 mL) dried porcini mushrooms
½ cup (125 mL) boiling water
Sea salt
14 oz (400 g) dried pasta
1 lb (500 g) mixed mushrooms, such as black trumpet, chanterelle, portobello and shiitake, cleaned and tough stems trimmed
2 tbsp (25 mL) unsalted butter
1 large shallot, finely chopped
1 garlic clove, peeled, halved and germ removed
1 tbsp (15 mL) finely diced oil-packed, sun-dried tomato
A large sprig thyme
Freshly ground black pepper
¼ cup (50 mL) chopped fresh flat-leaf parsley
Truffle oil, optional
Grated Parmesan cheese
1. Place the dried mushrooms in a small bowl and pour over the boiling water. Set aside to soak for 30 minutes. Remove the mushrooms from the water, then strain the soaking liquid carefully, discarding any grit or sand. Set the mushrooms and soaking liquid aside.

2. Bring a large pot of salted water to a boil over high heat. When boiling, add the pasta. Stir and cook until al dente. 3. Meanwhile, cut the mushrooms into 1-inch (2.5-cm) chunks.

4. In a large frying pan with a lid, heat the butter over medium heat. Add the shallot and cook, stirring, until it just begins to colour, about 3 minutes. Add the garlic, sun-dried tomato and thyme, stir, then increase the heat to medium-high and add the mushrooms. Cook, stirring constantly, for 2 minutes or until the mushrooms begin to stick. Reduce the heat to low, pour in the strained soaking liquid, stirring to deglaze the pan. Season the mushrooms with salt and pepper, cover and cook for 5 minutes or until the mushrooms are tender. Remove the thyme and garlic.

5. When the pasta is cooked, skim ½ cup (125 mL) of the cooking liquid from the pot and set aside. Drain the pasta and then add it with the reserved cooking liquid to the sauce. Stir over low heat to coat the pasta with the sauce. Sprinkle with parsley and drizzle with truffle oil, if using.

6. Serve with the grated cheese.
Serves 6 as an appetizer or 4 as a main course
SHARE