Pasta with Tomato Vinaigrette
Summer 2002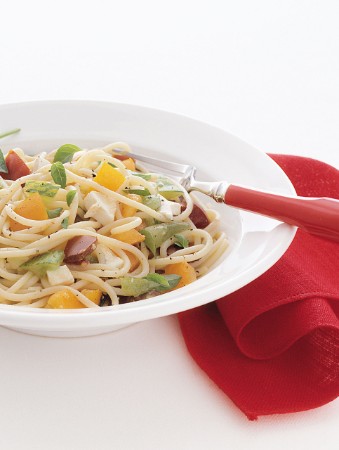 Pasta with Tomato Vinaigrette
Summer 2002
BY: Lucy Waverman
A colourful, simple summer dish that highlights the gorgeous colours and flavours of the heirloom tomato harvest.
8 multi-coloured tomatoes, seeded and chopped
1/2 cup (125 mL) olive oil
1/4 cup (50 mL) slivered basil
2 tsp (10 mL) chopped garlic
1 tbsp (15 mL) balsamic vinegar
4 oz (125 g) buffalo mozzarella, diced
Salt and freshly ground pepper
8 oz (250 g) dried pasta such as spaghetti or linguine
1. Place tomatoes in bowl. Stir in oil, basil, garlic, vinegar and mozzarella. Season with salt and pepper. Let sit while cooking pasta.

2. Bring large pot of salted water to boil. Add pasta and cook until al dente, about 10 to 12 minutes. Drain. Season with salt and pepper.

3. Toss with tomato mixture and serve immediately.
SHARE