Pasta with Shrimp, Dill and Fresh Tomatoes
Summer 2008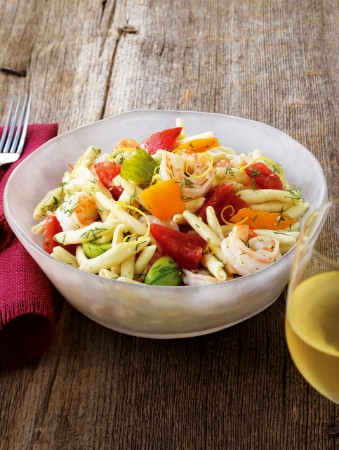 Pasta with Shrimp, Dill and Fresh Tomatoes
Summer 2008
BY: Jennifer MacKenzie
Gently warmed tomatoes create a fresh sauce for this oh-so-simple yet oh-so-flavourful pasta and shrimp dish. Different colours of heirloom tomatoes will make it that much more fabulous. Choose juicier, softer varieties with deep flavours. A deep purple-red such as Bloody Butcher or Cherokee Purple combined with a ripe green such as Green Zebra, Garden Lime or Green Velvet and a yellow-orange Northern Lights, red Stupice or Pink Brandywine will certainly make a splash.
1 lb (500 g) large shrimp
12 oz (375 g) fusilli, gemelli or other short pasta
2 tbsp (25 mL) butter or olive oil
4 cloves garlic, minced
3 cups (750 mL) chopped tomatoes, in a mixture of colours
2 tbsp (25 mL) chopped fresh dill
Juice and grated zest of ½ lemon
1 tsp (5 mL) salt, or to taste
¼ tsp (1 mL) freshly ground black pepper
1. Peel and devein shrimp and pat dry with paper towel. Set aside.

2. In a large pot of boiling salted water, cook pasta for about 10 minutes or until just tender. Drain well and return to pot.

3. Meanwhile, melt butter in a large skillet over medium-high heat. Sauté garlic until fragrant, about 15 seconds. Add shrimp and sauté just until pink and curled, 2 to 3 minutes. Stir in tomatoes, dill and lemon juice, scraping up any bits stuck to the pan.

4. Add to drained pasta and toss gently to combine. Season with salt and pepper to taste. Divide among warmed serving bowls and sprinkle with lemon zest.
SHARE