Pashtet (Liver Pate)
Printemps 2004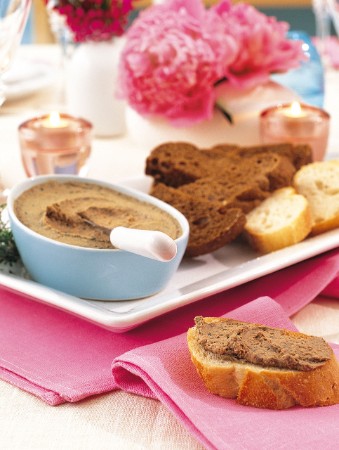 Pashtet (Liver Pate)
Printemps 2004
BY: Jennifer MacKenzie
This flavourful spread is traditionally served as a start to the celebratory meal often with a shot of chilled vodka and a cheerful toast. Different versions use a variety of meats and liver, some are baked then chilled and others are baked into a pastry crust for special occasions. This simple version only needs to be served in a decorative crock, perhaps garnished with fresh thyme sprigs. The flavour actually benefits from being made ahead so it can be ready to serve when the celebration begins.
1 lb (500 g) chicken livers
1/3 cup (75 mL) butter
1 onion, chopped
1 cup (250 mL) finely chopped mushrooms
Salt and freshly ground pepper
1/4 tsp (1 mL) dried thyme
Pinch ground nutmeg
1/4 cup (50 mL) brandy
4 oz (125 g) cream cheese, at room temperature
2 tbsp (25 mL) chopped parsley
1 baguette
1. Trim chicken livers and cut in half or quarters if large. Melt butter in a skillet over medium heat. Add onion and mushrooms and cook, stirring, for about 5 minutes until onions are tender. Add chicken livers, salt, pepper, thyme and nutmeg and cook, stirring, until livers are firm and just slightly pink inside, about 8 minutes. Add brandy and stir up any brown bits from pan. Let cool slightly.
2. Place in a food processor or blender with cream cheese and purée until smooth. Check seasoning and stir in parsley. Pour into a paté crock or ramekins. Cover and refrigerate until chilled, up to 3 days.
3. To serve, slice baguette on the diagonal and toast lightly on both sides. Place on a platter with paté and a spreader.
SHARE