Parsnip & Peameal Chowder
Automne 2009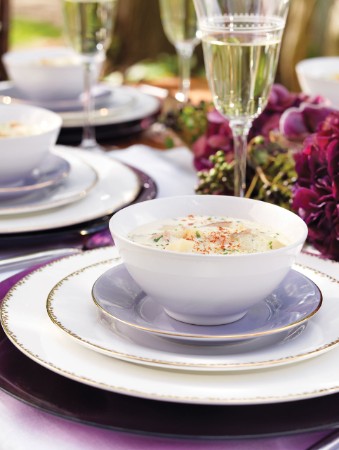 Parsnip & Peameal Chowder
Automne 2009
BY: Lucy Waverman
A chowder is any kind of chunky soup, not necessarily fish-based. Parsnips are an underrated vegetable with a rich sweet taste but you could substitute carrots or turnips if desired. Serving soup is an easy way to feed a large group. If you do not have a large soup pot then do it in two separate batches.
2 tbsp (25 mL) vegetable oil
8 oz (250 g) peameal bacon, diced
4 cups (1 L) diced onion
2 cups (500 mL) diced unpeeled red potato
8 cups (2 L) diced parsnips
12 cups (3 L) chicken stock
1 tbsp (15 mL) chopped fresh thyme
½ tsp (2 mL) cayenne
2 cups (500 mL) whipping cream
1 cup (250 mL) chopped parsley
1 tbsp (15 mL) paprika
1. Heat oil in a soup pot over medium heat.Add bacon and fry for 2 minutes or until any fat has rendered. Add onions and sauté until softened, about 3 minutes. Add potatoes and parsnips and continue to cook for 1 minute stirring well to combine.

2. Pour in stock and season with thyme and cayenne. Bring to a boil, lower heat and simmer, covered, for 20 minutes or until vegetables are tender. Add cream and parsley and simmer gently for 5 minutes. Serve garnished with a sprinkle of paprika.
SHARE