Papadum Chips with Butter Chicken and Mango Chutney
Temps des Fêtes 2009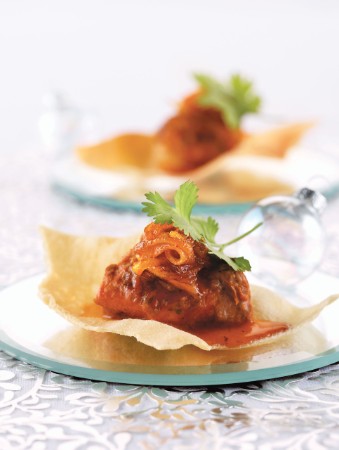 Papadum Chips with Butter Chicken and Mango Chutney
Temps des Fêtes 2009
BY: Marilyn Bentz-Crowley
Butter chicken is an especially popular curry in Canada, particularly enjoyed by those who prefer mild spicing. Adding all of the minced hot pepper or optional cayenne to this recipe notches up the heat several levels, approaching fiery, if that is more to your taste. Chop any large chunks of mango in the chutney and stir back in.
1 lb (500 g) skinless, boneless chicken breasts
3 tbsp (45 mL) tandoori paste
2 tbsp (25 mL) yogourt
3 to 4 large ripe plum tomatoes
1 small hot green chili such as jalapeño
1 tbsp (15 mL) minced fresh ginger
1 clove garlic, minced
1 tsp (5 mL) garam masala
1 tsp (5 mL) ground cumin
⅛ to ¼ tsp (0.5 to 1 mL) cayenne (optional)
1 tbsp (15 mL) butter
1 tbsp (15 mL) freshly squeezed lemon or lime juice
1 tsp (5 mL) granulated sugar
¼ cup (50 mL) whipping cream
1 tbsp (15 mL) finely chopped fresh coriander
1 pkg papadum rounds, 105 g (see Tip)
½ cup (125 mL) mango chutney, mostly solids
Several large stems fresh coriander
1. Equally cut chicken into 24 chunky pieces. Stir tandoori paste with yogourt in a bowl; add chicken. Mix until chicken is coated; cover and refrigerate for 30 to 60 minutes.

2. Meanwhile, seed tomatoes and cut into chunks; there should be about 1½ to 2 cups (375 to 500 mL). Purée in a blender; tiny chunks remain. Set aside. Seed and finely mince hot chili pepper; divide in half. Mix half of minced pepper with ginger, garlic, garam masala, cumin and optional cayenne. Set aside remaining minced pepper.

3. Preheat broiler until very hot. Arrange chicken on a foil-lined broiling pan. Broil close to glowing broiler for 3 to 4 minutes per side or until opaque and somewhat firm to the touch. Set aside.

4. Heat butter in a large saucepan over medium heat until bubbly. Add hot pepper mixture; sauté for 2 to 3 minutes or until very fragrant. Stir in tomato purée and lemon juice. Bring to a boil, stirring frequently. Gently boil 2 to 3 minutes, uncovered, or until tomato liquid is almost gone. Stir in sugar and whipping cream.

5. Add chicken and chopped coriander. Cook, uncovered and stirring often, another 5 to 8 minutes or until hot and well coated with tomato mixture. Taste and stir in remaining minced hot pepper if more spice is desired.Cool chicken in sauce, cover and refrigerate until needed, up to 2 days ahead.

6. To serve, break papadums into large pieces. Top each papadum shard with a piece of cold chicken, a dab of mango chutney and a leaf of coriander. Alternatively, heat chicken until hot and serve in a warm dish with a stack of papadums, a bowl of chutney and leaves of coriander for each guest to assemble to taste.

Tip: Papadum rounds come in various sizes and sometimes can be purchased ready to eat. Usually, each round must be fried in hot oil for less than a minute to emerge curled and very crispy. Rounds can also be microwaved, one at a time on a paper towel, for 40 to 45 seconds (1200 watt oven).
SHARE