Panko-Crusted Wasabi Chicken
Été 2013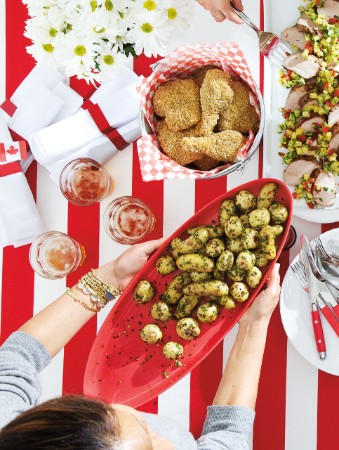 Panko-Crusted Wasabi Chicken
Été 2013
BY: Monda Rosenberg
Crispy coated chicken has been a potluck staple for decades, but we've added a modern global touch with some of our favourite Japanese flavours—aromatic and addictive wasabi paste and ginger. Naturally, for a coating we turned to panko, a Japanese-style bread crumb that's so dry it consistently delivers a golden crunchy coating. So there is no need to fry the chicken; just bake it up in a big batch. Another benefit of this finger-friendly chicken is that it's great whether hot, cold or in-between.
⅓ cup (80 mL) white sesame seeds (optional)
12 pieces of chicken, such as a mix of skinless boneless chicken breasts, skinless thighs with the bone in and small chicken legs
1 cup (250 mL) all-purpose flour
1 tsp (5 mL) salt
3 cups (750 mL) panko crumbs
2 tbsp (30 mL) canola or sesame oil
2 tubes (1.5 oz each) wasabi paste, about 6 tbsp (90 mL)
3 tbsp (45 mL) teriyaki sauce
1 tsp (5 mL) ground ginger
3 eggs
¼ cup (60 mL) well-drained regular horseradish
1 Preheat oven to 375°F (190°C).

2 Position oven racks in the top and bottom third of the oven. You will need 2 large baking sheets with shallow sides. Line with foil or parchment paper. Place baking racks on each.

3 If using sesame seeds, toast them in a wide dry skillet over medium heat. Shake and stir often until pale golden, 3 to 4 minutes, watching closely to make sure they do not burn. Set aside. To even out the size of chicken pieces, slice breasts in half, then trim any excess fat from chicken. You can leave skin on the legs or pull off. Pat chicken dry with paper towels.

4 To coat chicken, you will need 3 dishes slightly wider than the widest piece of chicken. Blend flour with salt in one dish. Stir panko crumbs with sesame seeds in another. While stirring, drizzle in oil. Then work between your fingers to form an even crumb. This helps create a crisp coating. Place wasabi paste, teriyaki sauce and ginger in the third dish. Whisk with a fork to dissolve wasabi. You may need to mash it with the back of a spoon. Whisk in eggs, then drained horseradish.

5 Place 1 piece of chicken at a time in the flour. Turn to coat evenly, then tap against the bowl to shake off excess. Transfer to the egg mixture and turn to coat. Letting excess drip off, place in the crumb mixture and gently press down to lightly coat, then turn and press other side into crumbs (don't heavily coat). You may have to sprinkle crumbs over some areas to ensure the coating is even. Place chicken on a rack on a baking pan. Repeat with remaining pieces, whisking egg mixture to distribute horseradish before each coating and occasionally stirring the panko and sesame seeds.

6 Bake for 20 minutes, then switch the racks the baking pans are on. Continue baking until chicken is golden and reaches an internal temperature of 165°F (73°C). Depending on size, they will need a total baking time of 25 to 45 minutes. Remove to a platter.

Make Ahead: Chicken can be coated and set on the rack on a baking pan, then refrigerated for at least an hour before baking. Or bake chicken and leave on racks on pans to cool to room temperature. Then refrigerate in a sealed container, separating layers with waxed paper, up to a day. Reheat, if you want, in a 350°F (180°C) oven until warmed through, from 12 to 15 minutes.
SHARE