Panko-Crusted Beef Roulade
Winter 2013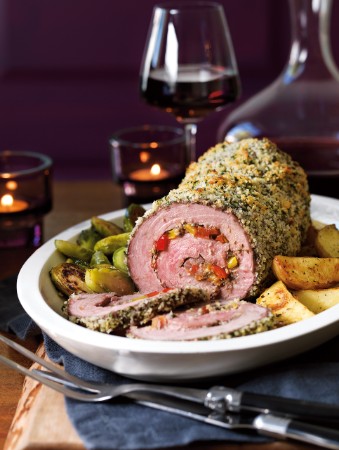 Panko-Crusted Beef Roulade
Winter 2013
BY: Emily Richards
This stuffed rolled roast is an easy way to serve up a Sunday dinner but just as tasty cold the next day in a sandwich for lunch. Eye of the round roasts are frequently on sale and they feed a crowd nicely.
1 tbsp (15 mL) canola oil
1 onion, chopped
1 each red and yellow bell pepper, diced
4 cloves garlic, minced
2 tbsp (30 mL) chopped fresh parsley
2 tsp (10 mL) chopped fresh thyme
1 cup (250 mL) shredded Asiago cheese
¼ tsp (1 mL) each salt and pepper
1 eye-of-round beef roast, about 2¼ lbs (1.125 kg)

TOPPING
1/3 cup (80 mL) panko bread crumbs
2 tbsp (30 mL) chopped fresh parsley
3 cloves garlic, minced
Pinch each salt and pepper
2 tbsp (30 mL) canola oil
1 Heat oil in a large nonstick skillet over medium heat and cook onion, red and yellow pepper, garlic, parsley and thyme for about 15 minutes or until softened and starting to brown. Remove from heat and stir in cheese, salt and pepper; set aside to cool slightly.

2 Using a chef's knife, slice roast lengthwise almost all the way through the centre and open like a book. Repeat (cutting horizontally) on both sides of the roast, laying meat flat. Using a meat pounder, pound the roast to about ½-inch (1‑cm) thickness. Spread pepper mixture over roast and roll up, jelly-roll style.Tie roast with kitchen string at about 2-inch (5-cm) intervals.

3 To make topping, stir together bread crumbs, parsley, garlic, salt and pepper. Rub oil all over roast and then roll into bread-crumb mixture to coat.

4 Heat oven to 450°F (230°C).

5 Place roast on rack in roasting pan and place in oven for 10 minutes. Reduce heat to 275°F (140°C) and cook for about 1 hour and 45 minutes or until meat thermometer reaches 145°F (63°C) for medium-rare. Remove from oven; cover loosely and let stand 10 minutes before slicing.
SHARE