Panko-Crisped Ham, Caramelized Onions & Gouda Sandwich
Spring 2018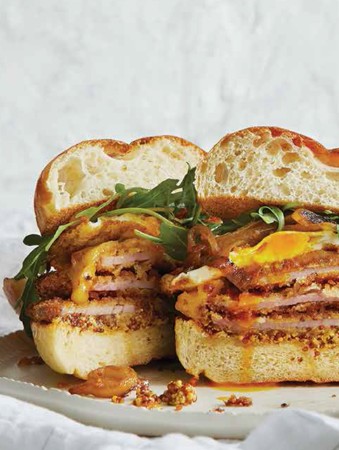 Panko-Crisped Ham, Caramelized Onions & Gouda Sandwich
Spring 2018
BY: Heather Trim
Once the big holiday meal is done, in a perfect world there are just enough ham leftovers for a second go-around. In this case, it's a casually delicious (but good enough for weekend guests) glorified ham sandwich. To simplify things, you can prepare onions and mustard in advance.
CARAMELIZED ONIONS
1 tbsp (15 mL) vegetable oil
2 medium onions, thinly sliced Salt and pepper
1 tsp (5 mL) granulated sugar
1 to 2 tbsp (15 to 30 mL) water, if needed

CHEATER'S CREOLE MUSTARD
3 tbsp (45 mL) grainy Dijon mustard
½ tsp (2 mL) each Worcestershire and Tabasco sauce

SANDWICH
2 tsp (10 mL) maple syrup
⅔ cup (150 mL) panko crumbs
4 sandwich-size slices of ham about ¼ inch (5 mm) thick
1 tbsp (15 mL) vegetable oil plus extra 4 eggs
4 squishy sandwich buns, toasted if you want, split in half
4 slices Gouda or cheddar cheese 1 handful baby arugula
1  Heat 1 tbsp (15 mL) oil in a large frying pan over medium heat. Add onions. Sprinkle with a generous pinch of salt and grinding of pepper. Stir. Cook about 5 minutes just until onions begin to soften. Reduce heat to low and sprinkle with sugar. Continue to cook, stirring occasionally, especially near the end of cooking, until onions are a deep golden  brown, about 10 minutes. If onions begin to stick, add 1 to 2 tbsp (15 to 30 mL) water to pan and stir. Turn off heat but leave onions in pan.

2 Meanwhile, stir mustard with Worcestershire and Tabasco.

3 In a small bowl, stir 1 tbsp (15 mL) mus- tard mixture into maple syrup. Place panko on a plate. Brush both sides of 1 slice of ham with maple mixture, then coat in panko. Ham will not be  perfectly coated. Set aside and repeat with remaining ham slices.

4  Heat 1 tbsp (15 mL) oil in a large nonstick frying pan over medium-high heat. Add ham slices, cooking until crumbs on each side are golden brown, about 2 minutes a side. Move caramelized onions to one side of pan and place cooked panko-coated ham slices on the other side of same pan. Turn heat to low to keep ham and onions warm while you cook eggs.

5 Add a little additional oil to the nonstick frying pan if needed (don't worry about any panko crumbs remaining in pan) and set over medium heat. Crack eggs into pan and cook about 4 minutes just until whites are set. Flip and cook 1 to 2 more minutes for over easy (a soft but not too runny egg yolk).

6 To assemble sandwiches, spread re- maining creole mustard over base and top of buns. Top base with a ham slice, folding or cutting if needed, then add Gouda, egg, caramelized onions, arugula and top of bun.
SHARE