Pan-Seared Whitefish with Lobster Kabocha Squash
Automne 2006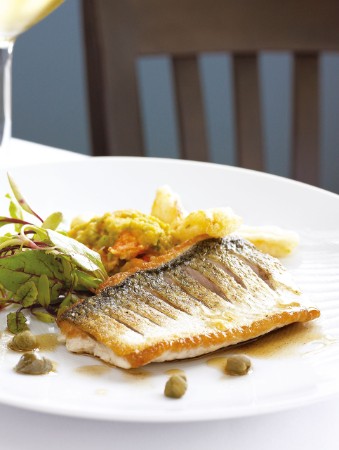 Pan-Seared Whitefish with Lobster Kabocha Squash
Automne 2006
BY: Stephen Treadwell, Chef, Treadwell Restaurant
Truffle flour is the hot new item for the pantry shelf. It is much cheaper than buying truffles and delivers a huge truffle flavour for a small amount of cost. Regular truffles run about $4,000 a kilo to buy-the flour costs about $14 for 40 grams, making it a real deal. However, truffle flour is hard to find. Check high-end gourmet shops or look for it on U.S. gourmet websites. I generally mix it with regular flour in a 3 flour to 1 truffle flour ratio. To make it easier to serve this dish, make the spinach ahead of time and reheat. Make the tempura batter before frying the fish so it is ready.
Squash
½ vanilla bean pod
¼ cup (50 mL) unsalted butter
1 small Kabocha or Hubbard squash, peeled and cleaned
4 oz (125 g) cooked, diced lobster meat
Pinch ground nutmeg
Salt and freshly ground pepper

Tempura Garnish
Canola oil for frying
¼ cup (50 mL) all-purpose flour
¼ cup (50 mL) ice water
Salt and freshly ground pepper

Fish
Four 5 oz (150 g) whitefish filets
¼ cup (50 mL) truffle or all-purpose flour for dusting fish
1 tbsp (15 mL) canola oil
1 tbsp (15 mL) lemon juice
2 tsp (10 mL) capers
2 tbsp (25 mL) chopped parsley
4 cups (1 L) packed baby spinach
4 sprigs of chervil
1. Split open vanilla bean and use the point of a knife to scrape out seeds, reserving the pod. Mix seeds with butter and set aside.

2. Cut 4 thin slices of squash to use as garnish and reserve to make squash tempura. Cut remaining squash into 1-inch (2.5-cm) pieces. Place cubed squash in salted water with vanilla bean pod and cook for 8 to 10 minutes or until squash is tender. Drain water and discard vanilla bean pod. Return squash to pot and cook over low heat for 1 minute, shaking pot to dry squash.

3. Mash squash to a smooth consistency. Mix in lobster meat and season with nutmeg, salt and pepper. Set aside and keep warm.

4. Heat 1-inch (2.5-cm) canola oil in a small wok or deep skillet over high heat to make squash tempura. Combine ¼ cup (50 mL) flour and ice water to make a thin batter. Season with salt and pepper. Add reserved slices of squash to batter to coat. When oil is hot add squash slices and cook until just golden, about 30 seconds per side.

5. Season fish with salt and pepper and dust with flour.

6. Heat oil in a nonstick pan over medium-high heat. Sear whitefish, skin down, until skin is crisp, about 30 seconds to 1 minute. Turn fish over and cook for another minute or until fish is medium rare. Cook fish in batches adding more oil to pan as needed. Remove fish from pan and keep warm.

7. Return pan to heat. Add reserved vanilla butter and cook until butter is browned and smells nutty, about 30 seconds. Add lemon juice and capers. Pour into a small bowl and stir in parsley.

8. Return pan to heat. Add spinach and cook for 30 seconds or until wilted.

9. Divide spinach between 4 plates. Place a piece of whitefish on top and spoon over lemon vanilla butter. Top with a spoonful of lobster squash and garnish with a piece of crispy squash and a sprig of chervil.
SHARE