Pan-Seared Veal Chops with Raisin-Madeira Sauce
Autumn 2012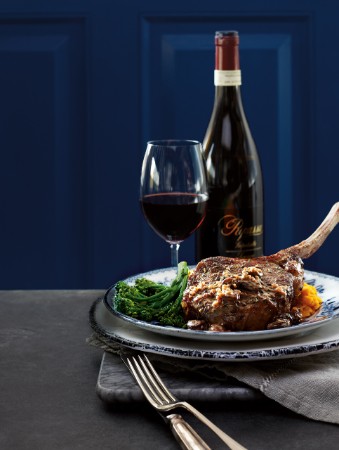 Pan-Seared Veal Chops with Raisin-Madeira Sauce
Autumn 2012
BY: Nicole Young
Dark Raisins are great multi-purpose raisins. When soaked in a warm liquid to plump them back up, they add a depth of flavour to sauces for veal, chicken and fish. They are the most common variety and are usually made from green Thompson grapes that darken as they dry to a classic brown colour.

This sweet-savoury sauce is a great complement to tender grilled veal chops. The raisins are soaked in warmed Madeira so they become extremely tender and provide a great texture for the sauce. Serve this with sautéed greens and a roasted squash purée.
1/3 cup (80 mL) Madeira wine
¼ cup (60 mL) dark raisins
4 bone-in veal chops
1 tbsp (15 mL) fresh chopped rosemary
½ tsp (2 mL) each coarse salt and freshly cracked pepper
2 tbsp (30 mL) olive oil
1 tbsp (15 mL) butter
2 tbsp (30 mL) minced shallots
1 clove garlic, minced
1½ cups (375 mL) veal or chicken stock
¼ cup (60 mL) heavy cream
1 In a small saucepan, bring Madeira to boil over medium heat. Remove from heat and stir in raisins. Cover and let sit for 30 minutes.

2 Heat oven to 350°F (180°C).

3 Season veal with rosemary, salt, pepper and 1 tbsp (15 mL) olive oil. Let sit for 10 minutes. In a large skillet, melt butter and remaining olive oil over medium-high heat. Sear chops on each side until golden, about 3 minutes per side. Transfer to oven and cook until medium-rare, about 10 minutes. Transfer to platter to rest.

4 In same skillet, remove all but 2 tbsp (30 mL) fat, add shallots and garlic and cook for 1 minute over medium-high heat. Stir in raisins with their liquid and veal stock. Cook until reduced by half, about 10 minutes. Whisk in cream and let thicken slightly, about 2 minutes. Spoon over veal chops to serve.
SHARE