Pan-Seared Scallops with Vermouth-Poached Creamy Heirloom Carrot Purée & Microgreens
Début de l'été 2014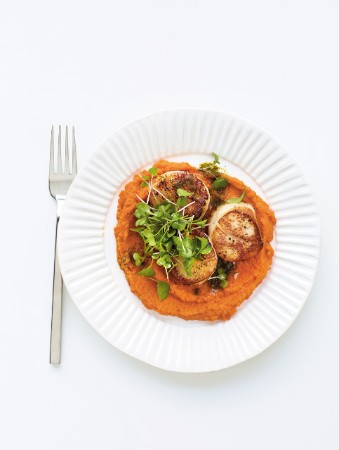 Pan-Seared Scallops with Vermouth-Poached Creamy Heirloom Carrot Purée & Microgreens
Début de l'été 2014
BY: Signe Langford
Vermouth with seafood is a classic pairing: the drink's botanical and citrus notes bring out the best in fish and cut through creamy, buttery sauces. Here, we've infused the carrots with dry vermouth for a wonderful balance of sweet and dry, creamy and herbaceous. Because it's fortified, vermouth keeps longer than wine. Store the closed bottle in the refrigerator for up to three months.
12 scallops—look for plump, fresh, preferably Diver scallops labeled "dry"(i.e. not chemically treated)
⅓ cup (80 mL) chicken or vegetable stock
½ cup plus 2 tsp (125 mL plus 10 mL) dry, white vermouth
1 lb (500 g) washed and scrubbed heirloom or regular, slender, bunch‑type carrots, not peeled, halved lengthwise and cut into½ inch (1 cm) pieces
1 shallot, peeled and finely chopped
2 small garlic cloves, peeled
1 knob fresh ginger, 2 inches (5 cm), peeled
2 pieces orange peel, each 3 x 1 inch (8 x 2.5 cm), pith not included
2 green cardamom pods, smashed
2 tsp (10 mL) fresh orange juice
¼ cup (60 mL) 35% cream
2 tbsp (30 mL) butter, divided
¼ tsp (1 mL) white pepper
Sea salt to taste
1 tbsp (15 mL) grape-seed oil, or another neutral‑tasting oil such as safflower, sunflower, canola
Approximately 3 cups (750 mL) micro or baby greens: arugula, spinach, kale are best
Orange Vermouth Vinaigrette (recipe follows)
Coriander Drizzle (recipe follows)
1 If scallops are wet, set out onto a clean,non-linting kitchen towel and cover with another; pat ever so lightly and set aside in the fridge until it's time to fry.

2 In a medium saucepan, over medium heat, add the stock, ½ cup (125 mL) vermouth, carrots, shallot, garlic, ginger, orange peel and cardamom; cover and simmer until carrots are very tender, about 20 minutes.

3 When tender, remove the orange peel, ginger and cardamom. Transfer carrots and liquid to a blender or food processor and purée.

4 Add remaining 2 tsp (10 mL) vermouth, orange juice, cream, 1 tbsp (15 mL) butter and white pepper; blend until smooth. Taste for salt and add if needed, giving it one last whirl. Transfer to an ovenproof dish and keep warm, covered, in a 250°F to 300°F (120°C to 150°C) oven. Makes about 2 cups (500 mL).

5 In a large nonstick pan (cast iron is best), over medium-high heat, add oil and remaining 1 tbsp (15 mL) butter. When melted and hot, add the scallops, either all at once—ifthe pan is big enough—or fry in batches. Do not crowd the pan or the scallops will poach rather than fry and you want to develop a nice golden, crust. Fry the scallops for 2 minutes on each side. Remove from pan and set aside.

6 To serve, spoon about 3/4 cup (175 mL) for4 servings (1/2 cup/125 mL for 6) of the carrot purée onto plates. Place scallops on top of the purée (2 or 3 per person).

7 Add the microgreens to the bowl with the Orange Vermouth Vinaigrette, and with clean hands, very delicately toss until just lightly coated. There may be some vinaigrette left in the bowl.

8 Top scallops with a generous pinch of the dressed microgreens—as much or as little as you like—and finish with Coriander Drizzle to taste.
Serves 4 (6 as an appetizer)
ORANGE VERMOUTH VINAIGRETTE
In a large bowl, using a whisk, blend ¼ cup (60 mL) grape-seed or other neutral-flavoured oil, 4 tsp (20 mL) fresh orange juice, 4 tsp (20 mL) dry vermouth, ¼ tsp (1 mL) sea salt, and coarsely ground black pepper to taste.
Makes about ½ cup (125 mL)
CORIANDER DRIZZLE
Coriander tends to be a love-it-or-hate-it herb. If you fall into the latter camp, use chives, Italian parsley or dill instead. To a blender or food processor add 1 cup (250 mL) loosely packed coriander leaves, washed and patted dry (no stems), ¼ tsp (1 mL) sea salt, 1 tbsp (15 mL) fresh orange juice, 1 tbsp (15 mL) fresh lemon juice and 1 tsp (5 mL) vermouth. Liquefy until smooth and emulsified.

Makes about ¾ cup (175 mL)
SHARE