Pan-Seared Lamb Chops
Winter 2014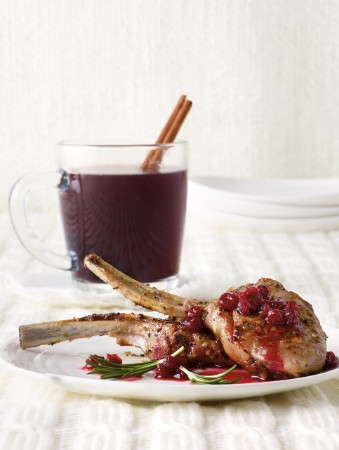 Pan-Seared Lamb Chops
Winter 2014
BY: Signe Langford
Cardamom is a spice most often associated with Indian cooking and curries, but it's also a go-to spice in the Scandinavian pantry. Bruising the pods is vital, to let the flavours out. This is a generous recipe that allows you to increase the number of chops you wish to serve—up to 18, or 3 per person—without having to increase the other ingredients.
12 tiny or "lollipop" lamb chops, frenched
¼ cup (60 mL) canola or olive oil
1 tbsp (15 mL) finely minced fresh rosemary
5 green cardamom pods, bruised in a mortar and pestle or with the side of a knife
2 cloves garlic, finely minced
Zest of 1 orange
1 tsp (5 mL) coarsely ground black pepper
Coarse sea or kosher salt to taste
1 Add the lamb, oil, rosemary, cardamom, garlic, orange zest, pepper and salt to a large, flat-bottom container and toss to evenly coat the lamb with the marinade. Cover and set aside in the fridge to marinate for at least 4 hours or overnight.

2 When ready to fry lamb chops, take out of the fridge an hour before frying to come up to room temperature.

3 Fry in a large, heavy-bottom skillet—castiron is best—over medium to medium-high heat until golden on the first side. Flip once and fry on the second side until golden; about 3 minutes each side.

4 Serve on a large platter with a dish of the Lingonberry-Port Compote (recipe follows) for dipping or spooning over individual servings.
Serves 6, with 2 chops per person
LINGONBERRY-PORT COMPOTE

Lingonberries are getting easier to find—try your local IKEA—but if you can't find them, use frozen Saskatoon berries, blackcurrants or redcurrants, cranberries or even blueberries in a real pinch.

2 cups (500 mL) frozen or fresh lingonberries
1 small shallot, finely minced
½ cup (125 mL) ruby port
2 tbsp (30 mL) maple syrup
Juice of 1 large orange, or about ¾ cup (175 mL)
3 green cardamom pods, bruised in a mortar and pestle or with the side of a knife
Black pepper to taste
1 To a medium saucepan on medium-low to medium heat, add all ingredients and simmer until reduced to the consistency of melted jam—should take about 20 to 25 minutes—stirring often to prevent sticking and burning. Remove and discard cardamom pods before serving.

2 Transfer to serving dish.
Makes about 1½ cups (375 mL)
SHARE