Pan-Roasted Tarragon Chicken with Seasonal Vegetables
Été 2009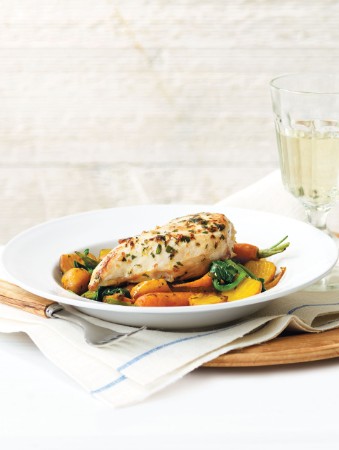 Pan-Roasted Tarragon Chicken with Seasonal Vegetables
Été 2009
BY: Lucy Waverman
This simple method of roasting chicken along with its vegetables makes a quick summer meal. Change the vegetables as they come into season remembering that cooking times vary. Use baby vegetables if available or cut up bigger ones.
2 tbsp (25 mL) chopped fresh tarragon
1 tsp (5 mL) chopped garlic
1 tsp (5 mL) grated lemon rind
3 tbsp (45 mL) olive oil
4 boneless, skinless chicken breasts
Salt and freshly ground pepper
1 tbsp (15 mL) butter
1 bunch small carrots, scrubbed,
1 inch (2.5 cm) tops left on
6 baby golden beets, scrubbed and halved
1 bunch spinach, stems removed and sliced
1⁄4 cup (50 mL) white wine
1 cup (250 mL) chicken stock
2 tbsp (25 mL) unsalted butter, diced
1. Combine tarragon, garlic, lemon rind and 2 tbsp (25 mL) olive oil. Toss with chicken breasts, season with salt and pepper and let marinate for 30 minutes.

2. Heat remaining 1 tbsp (15 mL) olive oil and butter in a large skillet over medium-high heat. Add breasts and sear for about 2 minutes a side or until lightly browned.

3. Toss carrots and beets in pan, cover, reduce heat to medium-low and let simmer for 5 minutes. Turn chicken and simmer, covered, for 2 more minutes or until juices run clear. Remove breasts. Continue to cook vegetables for 5 to 7 minutes longer or until tender.Add in spinach and cook covered for 1 minute longer or until limp. Uncover and remove contents of pan to the chicken. Leave any juice in pan.

4. Turn heat to high. Add white wine to pan and bring to a boil, scraping up any brown bits on the base of the pan.Add chicken stock and bring to boil.Simmer for 5 minutes or until slightly thickened. Remove from heat and stir in butter, then return chicken and vegetables to pan to reheat. Serve chicken and vegetables with pan juices.
SHARE