Pan-Roasted Halibut with Shrimp Risotto on a Bed of Spinach
Holiday 2006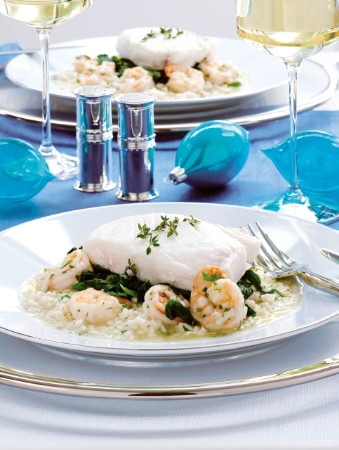 Pan-Roasted Halibut with Shrimp Risotto on a Bed of Spinach
Holiday 2006
BY: Lucy Waverman
Risotto is a last-minute dish although I have reheated it in the micro wave without ill effect. This is an elegant main course for that special dinner.
5 cups (1.25 L) fish or chicken stock
2 tbsp (25 mL) olive oil
½ cup (125 mL) chopped onion
1 tsp (5 mL) garlic, chopped
1 tsp (5 mL) chopped fresh thyme
1 lb (500 g) large shrimp, peeled
2 tbsp (25 mL) butter
1½ cups (375 mL)carnaroli or arborio rice
¼ cup (50 mL) white wine
2 tbsp (25 mL) chopped Italian parsley
Salt and freshly ground pepper
1 bunch spinach, washed and stem removed
4 to 6 oz (125 to 175 g) pieces halibut
½ tsp (2 mL) truffle oil, optional
1. Bring stock to simmer on stove.

2. Heat oil over medium heat in a wide pot. Add onions, garlic and thyme and sauté for 2 minutes. Add shrimp and sauté until just pink, about 2 minutes. Remove shrimp and reserve. Add 1 tbsp (15 mL) butter to pot. When butter sizzles add rice. Stir rice until coated with butter, about 1 minute. Add wine and let simmer until evaporated, about 1 minute.

3. Pour in 1 cup (250 mL) stock and cook, stirring, while stock simmers. As stock disappears, add another 1 cup (250 mL) and continue adding stock and stirring until rice is al dente (still some bite in the centre), about 15 to 20 minutes.

4. Add shrimp and stir together until shrimp are hot, adding more stock if you want the rice a little softer. Remove from heat and stir in remaining 1 tbsp (15 mL) butter and parsley. Taste for seasoning.

5. While rice is cooking, heat skillet over medium-high heat. Add spinach and ¼ cup (50 mL) stock to skillet. Place halibut on spinach, cover and reduce heat to medium-low. Steam for 8 to 10 minutes or until white juices start to rise. Fish should be slightly undercooked in the middle.

6. Spoon risotto onto each serving plate and place spinach and halibut on top. Drizzle with truffle oil.
SHARE