Pan-Grilled Oysters
Summer 2018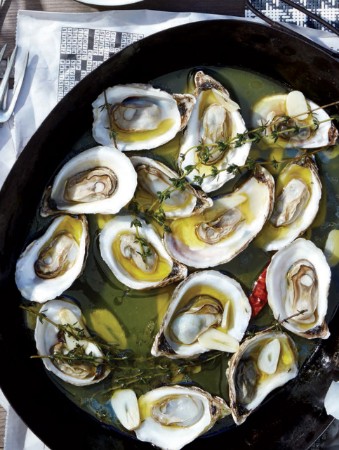 Pan-Grilled Oysters
Summer 2018
BY: Lucy Waverman
The oysters hardly cook in this dish; they are still essentially raw with a slight smokiness and some delectable juices for mopping up. Once open, shells can be removed with your fingers or a butter knife. Use the smaller Canadian East Coast Malpeque or Beausoleil oysters; the larger Pacific oysters take too long to open. Serve a torn baguette for any juices. Serve as a first course at the table or as a superb nibble before dinner.
18 oysters, rinsed
8 thyme sprigs
4 garlic cloves, thinly sliced
1 dried chili
⅔ cup (150 mL) white wine
⅓ cup (80 mL) olive oil
1. Place oysters flat-side down in a metal baking dish or baking sheet that can go on the barbecue. Scatter over thyme, garlic, chili, wine and olive oil. Preheat grill to high.

2. Place pan on grill and cook covered until oysters just open, about 4 to 8 minutes, depending on size. Transfer oysters to a bowl as they open; cover with foil to keep warm. Wearing an oven glove, carefully remove 1 shell of the oyster. They look their best when nestled in the curved shell. Place them on a dish with the remaining contents of the pan. Serve immediately.
SHARE