Pan-Fried Pickerel with Hazelnut Brown Butter
Été 2017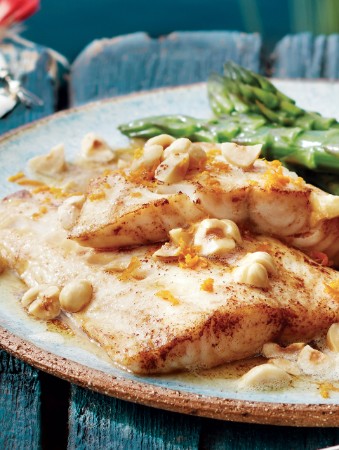 Pan-Fried Pickerel with Hazelnut Brown Butter
Été 2017
BY: Monda Rosenberg
Sweet tasting pickerel deserves its rank as Ontario's best-tasting fish. Fortunately, it's not only one of our most popular angler fish but many supermarkets now receive a fresh shipment of pickerel twice weekly. The nutty brown butter with crunchy hazelnuts in this recipe contrasts beautifully with the creaminess of the tender fish.
½ cup (125 mL) hazelnuts, lightly toasted and skins removed
1 lb (500 g) pickerel fillets, skin removed
Salt and ground white pepper
5 tbsp (75 mL) unsalted butter, divided
Finely grated zest of 1 orange (optional)
1. Coarsely chop nuts and set aside. Cut pickerel into serving-size pieces. Generously sprinkle all over with salt and white pepper.

2. For brown butter, place 3 tbsp (45 mL) butter in a large skillet over medium heat. Swirl occasionally until it starts to develop brown specks, about 3 minutes. Add nuts and stir about 30 seconds (do not let nuts brown). Turn into a dish to stop the cooking. Stir in a generous sprinkle of salt.

3. Wipe out the pan. Add remaining 2 tbsp (30 mL) butter to pan and set over medium heat. Add fish and sauté until pale golden, 2 to 4 minutes a side, depending on thickness. Remove each piece when cooked through. Turn off the heat. Return all fish to pan and pour browned butter and nuts over top. Tilt pan and spoon butter and nuts over fish several times. Remove to plates, spooning nuts and butter over fish. Sprinkle with zest if you wish.
SHARE