Pan Roasted Fingerling Potatoes
Automne 2005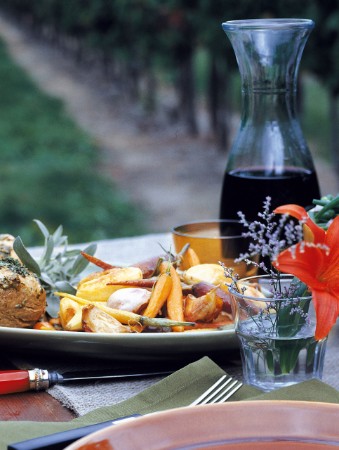 Pan Roasted Fingerling Potatoes
Automne 2005
BY: Lucy Waverman
Fingerling potatoes are now grown in Ontario. They are long, narrow potatoes supposed to be the size of a thumb but are usually a bit bigger. They roast beautifully. Peel the potatoes with a potato peeler so that they are slightly elongated, not round. They should be of an even size and similar shape. You can include tiny yellow beets, baby turnips and baby carrots in the mixture.
2 lbs (1 kg) fingerling potatoes, peeled
1 tbsp (15 mL) olive oil
3 tbsp (45 mL) unsalted butter
16 garlic cloves, unpeeled
Salt and freshly ground pepper
1. Trim potatoes with a potato peeler to make them all approximately the same size.

2. Add oil and butter in a heavy skillet large enough to accommodate potatoes in one layer, at medium heat. When sizzling, add potatoes and garlic and turn gently in fat until well coated.

3. Reduce heat to low, cover skillet and cook potatoes gently for 25 to 35 minutes or until golden and cooked through. Shake the pan occasionally as they cook to ensure even colouring. Peel garlic and season with salt and pepper.
SHARE