Paillards of Chicken with Pecans and Honey
Holiday 2005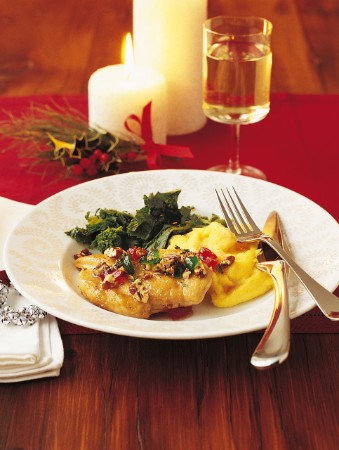 Paillards of Chicken with Pecans and Honey
Holiday 2005
BY: Marilyn Bentz-Crowley
Quick to sauté, tender chicken breasts become the star of an easy sophisticated dinner, with toasted pecans adding flavourful, crunchy bite. Team up with creamy polenta and seared rapini for a mouth-watering feast.
4 large skinless, boneless chicken breasts
¼ cup (50 mL) all-purpose flour
¼ tsp (1 mL) salt
Pinch of freshly ground black pepper
2 tbsp (25 mL) butter
¼ cup (50 mL) liquid honey
1 cup (250 mL) dry white wine
1 tbsp (15 mL) kirsch
½ cup (125 mL) toasted pecans, coarsely chopped
¼ cup (50 mL) glacé cherries, cut into quarters
2 tsp (10 mL) chopped fresh thyme
1. Place each breast between pieces of plastic wrap. Pound with your fist or the smooth side of a mallet until ½-inch (1-cm) thick. Place flour on a plate and season with salt and pepper. Dredge each breast, shaking off excess flour. Discard any remaining flour.

2. Heat butter in a large frying pan over medium to medium-high heat. When bubbly, add chicken. Sauté 3 to 4 minutes per side or until golden brown. Add honey and wine. Reduce heat, cover and simmer for 5 minutes. Transfer breasts to a plate and keep warm.

3. Increase heat to high; and add kirsch. Boil mixture 3 to 5 minutes or until liquid darkens and thickens into sauce. Stir in pecans and cherries until coated. Spoon over chicken; sprinkle with fresh thyme.
SHARE