Paella
Début de l'été 2006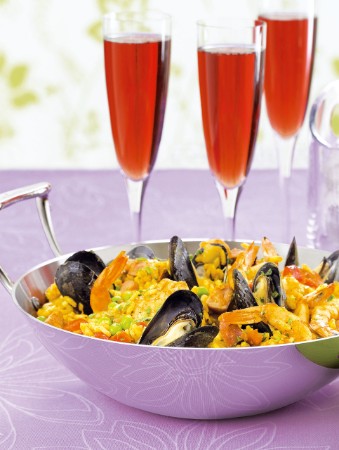 Paella
Début de l'été 2006
BY: Lucy Waverman
The right pan makes the difference to this dish. Do not use a nonstick pan as the rice does not get the right crustiness on the base. This paella tastes better with chicken stock and you can use stock base for it. The amount of stock will vary depending on the size of the pan you use. The stock will evaporate more in a larger pan. We used a 12-inch (30-cm) sauté pan but a large skillet with high sides also works well. Smoked Spanish paprika is very trendy right now but if it is unavailable use regular paprika with a pinch of cayenne.
2 tbsp (25 mL) olive oil
8 chicken thighs
Salt and freshly ground pepper to taste.
5 to 6 cups (1.25 to 1.5 L) chicken stock
½ tsp (2 mL) saffron threads
1 Spanish onion, chopped
1 tbsp (15 mL) chopped garlic
6 oz (175 g) Spanish chorizo smoked sausage, diced
12 oz (375 g) shrimp, shelled
1 tbsp (15 mL) hot, smoked Spanish paprika
1 tbsp (15 mL) fresh thyme, or 1 tsp (5 mL) dried
1 cup (250 mL) finely chopped tomatoes, fresh or canned
2 cups (500 mL) short grain rice, Valencia or arborio
12 mussels
½ cup (125 mL) peas, fresh or frozen, defrosted
½ cup (125 mL) pimentos, or roasted red peppers, cut in strips
¼ cup (50 mL) chopped parsley
Lemon wedges
1. Heat oil in large skillet on medium-high heat on grill or stovetop. Season chicken thighs with salt and pepper and add to skillet. Fry for 4 minutes per side or until golden. Remove from skillet. Reserve.

2. Heat stock and saffron together and keep on a gentle simmer.

3. Add onions, garlic and chorizo to skillet and sauté for 1 minute. Stir in shrimp, paprika and thyme. Sauté until shrimp just begins to turn pink. Remove shrimp from skillet.

4. Add 5 cups (1.25 L) stock and tomatoes and bring to boil. Stir in rice. Boil for 2 minutes and reduce heat to medium-low. Return chicken to skillet and push down into rice.

5. Cook uncovered for 15 minutes. Stock should be bubbling. Add remaining cup (250 mL) of stock if rice mixture becomes too dry before it is cooked. Add mussels, shrimps, peas and pimentos. Cover with foil, reduce heat to low and cook for 10 minutes longer.

6. Let sit off heat, covered, for 10 minutes before serving. Sprinkle with parsley and garnish with lemon wedges.
SHARE