Pa Amb Tomàquet
Summer 2011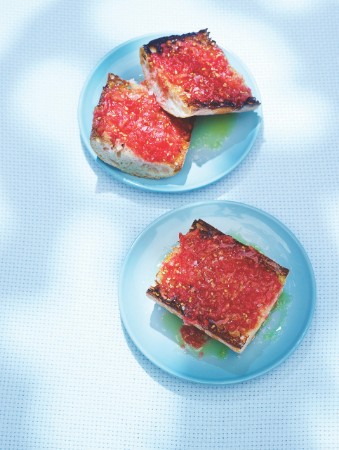 Pa Amb Tomàquet
Summer 2011
BY: Christopher St. Onge
A good version of Catalonia's most emblematic dish will soon have you forgetting good old Italian bruschetta. Don't skimp on the olive oil, and use your best one here, preferably a light, fruity oil. Delicious on its own, it's also great topped with a fat salted anchovy or slice of serrano ham.
3 medium-size ripe red tomatoes
1 baguette or long ciabatta loaf, about 12 inches (30-cm) long
2 cloves garlic
Olive oil for drizzling
Maldon, or other good quality sea salt
1 Cut each tomato in half. Grate the tomato flesh by pressing cut side against a coarse box grater positioned over a bowl. Discard the skin.

2 Cut the bread in half along its length and grill or broil until well toasted and slightly charred. While still warm, rub each half with a clove of garlic.

3 To serve, divide the grated tomato equally between the 2 halves of bread, drizzle liberally with olive oil, and sprinkle with salt. Cut each half into single-size portions.
SHARE