Scallops with Vanilla Jus, Basil Potato Purée and Leeks
Holiday 2007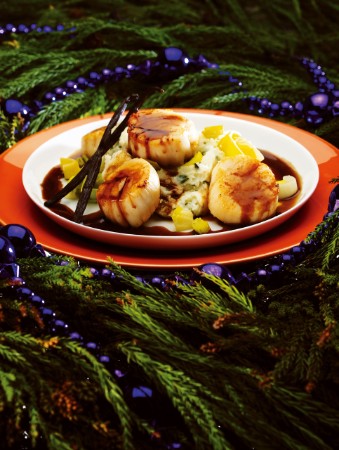 Scallops with Vanilla Jus, Basil Potato Purée and Leeks
Holiday 2007
BY: Marilyn Bentz-Crowley and Ludwig Ratzinger
Seared tender scallops radiate the fragrance of the sea, which blends amazingly well with a touch of vanilla's perfume, basil-scented mashed potatoes and mild leeks.
Potatoes
3 to 4 medium russet potatoes
1 tsp (5 mL) coarse salt
¼ cup (50 mL) olive oil
2 tbsp (25 mL) crème fraîche or sour cream
Salt and freshly ground pepper
1 small bunch basil, chopped about ½ cup (125 mL)

Leeks
2 to 3 leeks
2 tbsp (25 mL) unsalted butter
3 tbsp (45 mL) vegetable broth

Scallops
2 tbsp (25 mL) granulated sugar
¼ cup (50 mL) unsalted butter
⅔ cup (150 mL) vegetable broth
¼ cup (50 mL) balsamic vinegar
¼ tsp (1 mL) sea salt
¼ vanilla bean or ½ tsp (2 mL) vanilla
16 large scallops
1 to 2 tbsp (15 to 25 mL) olive oil
1. Peel potatoes; cover with water in a medium saucepan; add salt. Bring to a boil over high heat; cover and reduce heat so water boils gently for 20 minutes or until a skewer inserts easily into potato. Drain, mash and stir in oil and crème fraîche. Taste and add pinches of salt and pepper, as needed. Stir in basil; cover and keep warm.

2. Meanwhile, clean and thickly slice white and light green portions of leeks; lightly packed there should be 5 to 6 cups (1.25 to 1.5 L). Melt butter in a large saucepan over medium heat; add leeks. Sauté for 4 to 5 minutes or until bright green. Pour in broth, reduce heat to low and simmer partially covered for 15 to 20 minutes or until leeks are tender. Cover and keep warm.

3. Heat a medium stainless-steel frying pan over medium heat until quite hot. Quickly scatter sugar; cook 1 to 2 minutes or until sugar is caramelized; add butter. Cook 1 minute or until butter is browned. Stir in broth, vinegar and salt to deglaze pan; add split vanilla bean (but not extract). Boil gently, uncovered, for 8 to 10 minutes, until reduced by half and slightly syrupy. Remove from heat, stir in extract if using and set aside. (Sauce will break if refrigerated.)

4. Meanwhile, dry scallops very well with paper towels. Heat a generous amount of oil in a large frying pan over medium-high heat. When very hot, add scallops; do not disturb for at least 1 minute. Then peek at underside; keep sautéing without moving for 2 to 3 minutes or until browned; then flip. Repeat with second side; do not overcook.

5. Arrange 4 scallops, basil potatoes and leeks on each warm serving plate. Drizzle scallops with most of jus, but also spoon some over potatoes and leeks. Serve right away.
SHARE