Pasta with Mushrooms & Chestnuts
Holiday 2014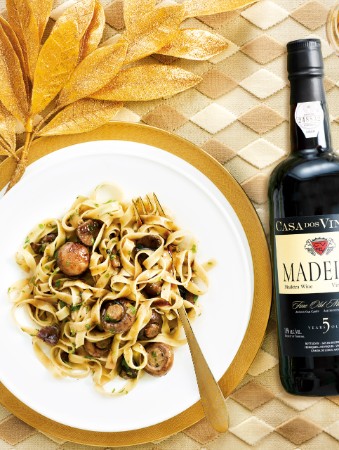 Pasta with Mushrooms & Chestnuts
Holiday 2014
BY: Lucy Waverman
Some time ago, I had a chestnut-flour pasta with mushrooms in the Four Seasons hotel in Milan. The pasta was tender and fragile and I knew I could never make it but it gave me the idea to add chestnuts to mushrooms in a pasta sauce. This wonderful dish is rich and should be served as a first course. Buy dried pasta made with eggs for the best results. Chestnut mushrooms are button-size cremini or brown mushrooms. Small ones are often not easy to find but pick the smallest out of the loose ones. Otherwise cut larger ones into quarters or halves.
1 cup (250 mL) Madeira
2 tbsp (30 mL) balsamic vinegar
1 cup (250 mL) vacuum-packed chestnuts, halved
8 oz (250 g) tagliatelle egg pasta
¼ cup (60 mL) butter
½ cup (125 mL) chopped shallots
1 lb (500 g) small chestnut or cremini mushrooms
Salt and freshly ground pepper
½ cup (125 mL) grated Pecorino Romano cheese
1 tbsp (15 mL) chopped parsley
1 Bring Madeira and balsamic to boil. Simmer for 2 minutes, then add chestnuts. Continue to simmer until chestnuts have absorbed the flavour, about 5 minutes. Drain, reserving liquid and set chestnuts aside. Return liquid to same pot. Boil for 3 to 5 minutes more or until slightly syrupy. Reserve.

2 Bring a large pot of salted water to boil. Add tagliatelle and cook for 5 minutes or until al dente. Drain well, reserving 1 cup (250 mL) pasta cooking water.

3 Heat a large skillet over medium-high heat. Add butter and shallots and sauté for 1 minute. Add mushrooms and chestnuts and sauté until mushrooms are softened and juicy, about 5 minutes. Season well with salt and pepper. Add pasta, ½ cup (125 mL) pasta water and half of the Madeira syrup. Stir together adding cheese and enough additional pasta cooking water to achieve a sauce. Toss with parsley.

4 Drizzle with the remaining Madeira syrup and serve.
SHARE